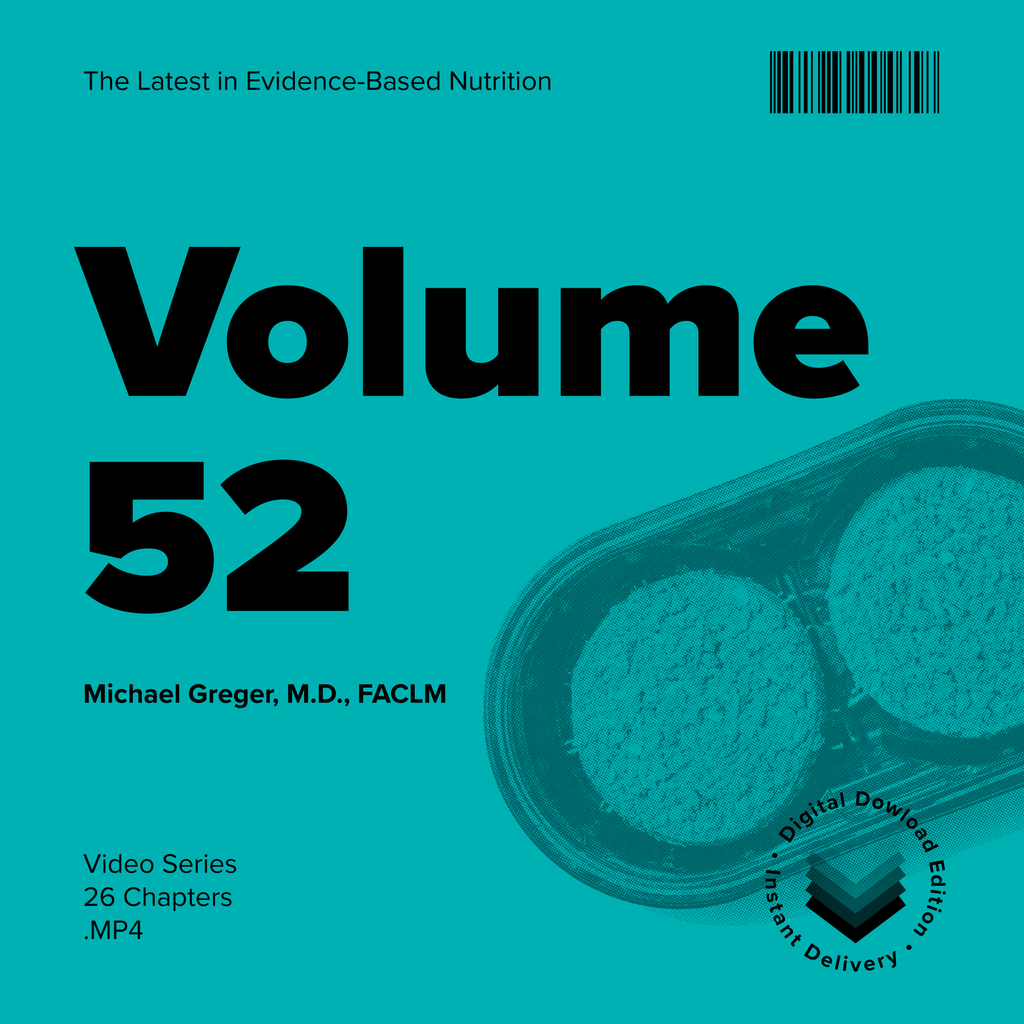 Latest in Clinical Nutrition - Volume 52 [Digital Download]
---
Overview

Dr. Greger reviews the latest cutting-edge science in this video presentation.
Chapters
1. Do Vitamin B12 Supplements Cause Acne?
2. Do Vitamin B12 Supplements Cause Bone Fractures and Lung Cancer?
3. Does Marijuana Cause Strokes and Heart Attacks?
4. Fasting for Rheumatoid Arthritis
5. Fasting for Autoimmune Disease
6. The Best Knee Replacement Alternative for Osteoarthritis Treatment
7. The Effects of Obesity on Back Pain, Blood Pressure, Cancer, and Diabetes
8. The Effects of Obesity on Dementia, Brain Function, and Fertility
9. The Effects of Obesity on Gallstones, Acid Reflux, and Cardiovascular Disease
10. The Effects of Obesity on the Immune System, and Kidney and Liver Disease
11. Is the Obesity Paradox Real or a Myth?
12. What's the Ideal BMI?
13. What's the Ideal Waist Size?
14. Boosting Anticancer Immunity with Forest Bathing
15. Why Does Forest Bathing Boost Natural Killer Cell Function
16. Is Sorghum a Healthy Grain?
17. The Health Benefits of Sorghum
18. The Environmental Impacts of Plant-Based Meat Substitutes
19. Are Beyond Meat and the Impossible Burger Healthy?
20. Plant-Based Protein: Are Pea and Soy Isolates Harmful?
21. Plant-Based Meat Substitutes Put to the Test
22. The Health Effects of Mycoprotein (Quorn) Versus BCAAs in Meat
23. What About the Heme in Impossible Burgers?
24. Does Heme Iron Cause Cancer?
25. Heme-Induced N-Nitroso Compounds and Fat Oxidation
26. Is Heme Iron the Reason Meat is Carcinogenic?
All of these videos are available for free on NutritionFacts.org.
---
Upon ordering, you will receive instant delivery of multiple, easy-to-view digital video formats:
Streaming Video
M4A File
M4A Zipped
---
Share this Product
---
More from this collection