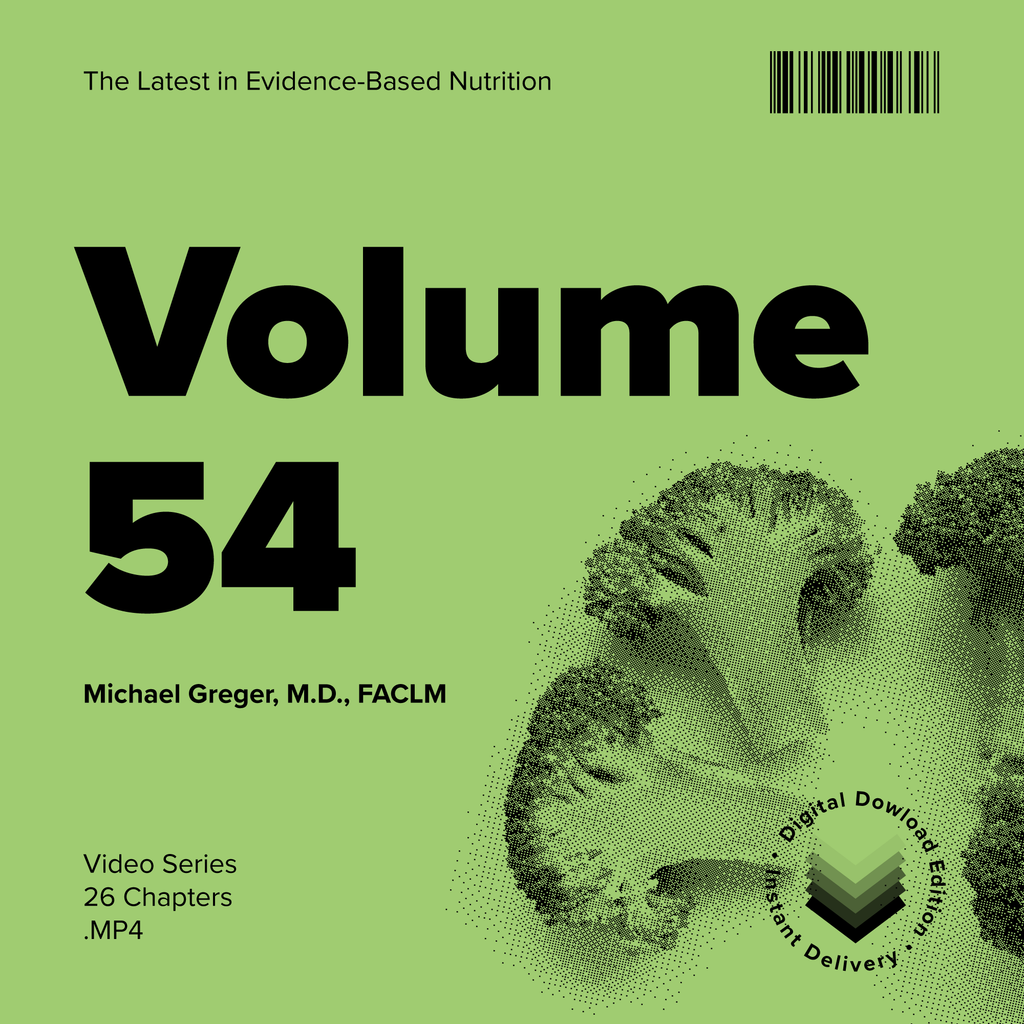 Latest in Clinical Nutrition - Volume 54 [Digital Download]
---
Overview

Dr. Greger reviews the latest cutting-edge science in this video presentation.
Chapters
Benefits of Black Cumin Seed (Nigella Sativa) for Weight Loss

What Causes Cancer to Metastasize

How to Control Cancer Metastasis with Diet

The Food That Can Downregulate the Metastatic Cancer Gene

Cannabis for IBD (Inflammatory Bowel Disease)

Fasting to Treat Depression

How to Boost Brain BDNF Levels for Depression Treatment

The Effects of Cleaning Products and Air Fresheners on Lung Health

The Scientific Consensus on a Healthy Diet

Are Emulsifiers Like Carboxymethylcellulose and Polysorbate 80 Safe?

The Benefits of Moringa Is It the Most Nutritious Food?

The Efficacy and Side Effects of Moringa Leaf Powder

Is It Safe to Eat Raw Mushrooms?

Pine Mouth Syndrome - Prolonged Bitter Taste from Certain Pine Nuts

200-Pound Weight Loss Without Hunger

Foods Designed to Hijack Our Appetites

How Variation Can Trump Sensation and Lead to Overeating

Exploiting Sensory-Specific Satiety for Weight Loss

Fruits and Vegetables Put to the Test for Boosting Mood

Are Small Intestinal Bacterial Overgrowth (SIBO) Tests Valid?

Fiber vs. Low FODMAP for SIBO Symptoms

How Much Do Doctors Actually Know About Nutrition?

Who Should Take Statins?

Are Doctors Misleading Patients About Statin Risks?

The True Benefits vs. Side Effects of Statins

How Much Longer Do You Live on Statins?
All of these videos are available for free on NutritionFacts.org.
---
Upon ordering, you will receive instant delivery of multiple, easy-to-view digital video formats:
Streaming Video
M4A File
M4A Zipped
---
Share this Product
---
More from this collection