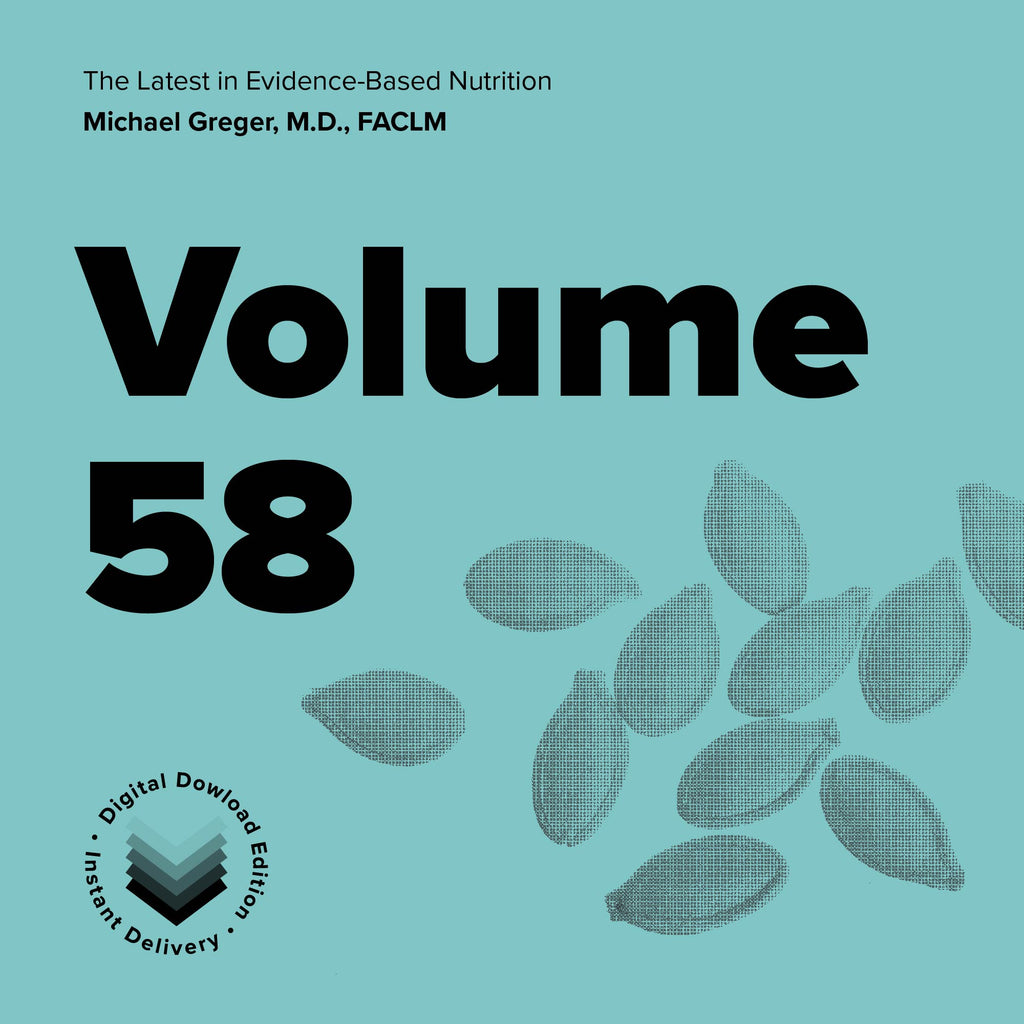 Latest in Clinical Nutrition - Volume 58 [Digital Download]
---
Overview

Dr. Greger reviews the latest cutting-edge science in this video presentation.
Chapters
1. Supplements for Hair Growth
2. Pills for Hair Growth
3. Food for Hair Growth
4. Micromorts: How Risky Is It to Go Under Anesthesia?
5. Are the Health Benefits of Nuts Limited to Those Eating Bad Diets?
6. Weight Bias: Hating Their Guts
7. The Impacts of Weight Bias in Health Care
8. How Big Sugar Undermines Dietary Guidelines
9. How Big Sugar Manipulated the Science for Dietary Guidelines
10. Observational Studies Show Similar Results to Randomized Controlled Trials
11. Failing GRADE for Annals of Internal Medicine Meat Studies
12. Conflicts of Interest in the Annals of Internal Medicine Meat Studies
13. The Health Risks vs. Benefits of Meat Consumption
14. How Big Meat Manipulated the Science
15. How Much Does Meat Affect Longevity?
16. How Effective Is Chemotherapy?
17. How Much Does Chemotherapy Improve Survival?
18. Fenugreek Benefits for Sexual Function, Painful Periods, and Milk Production
19. Why Don't Health Insurers Encourage Healthier Eating?
20. How to Cultivate a Healthy Gut Microbiome with Food
21. Coffee Put to the Test for Treating Parkinson's Disease
22. The Role of Kimchi and H. Pylori in Stomach Cancer
23. How to Treat H. Pylori Naturally with Diet
All of these videos are available for free on NutritionFacts.org.
---
Upon ordering, you will receive instant delivery of multiple, easy-to-view digital video formats:
Streaming Video
M4A File
M4A Zipped
---
Share this Product
---
More from this collection