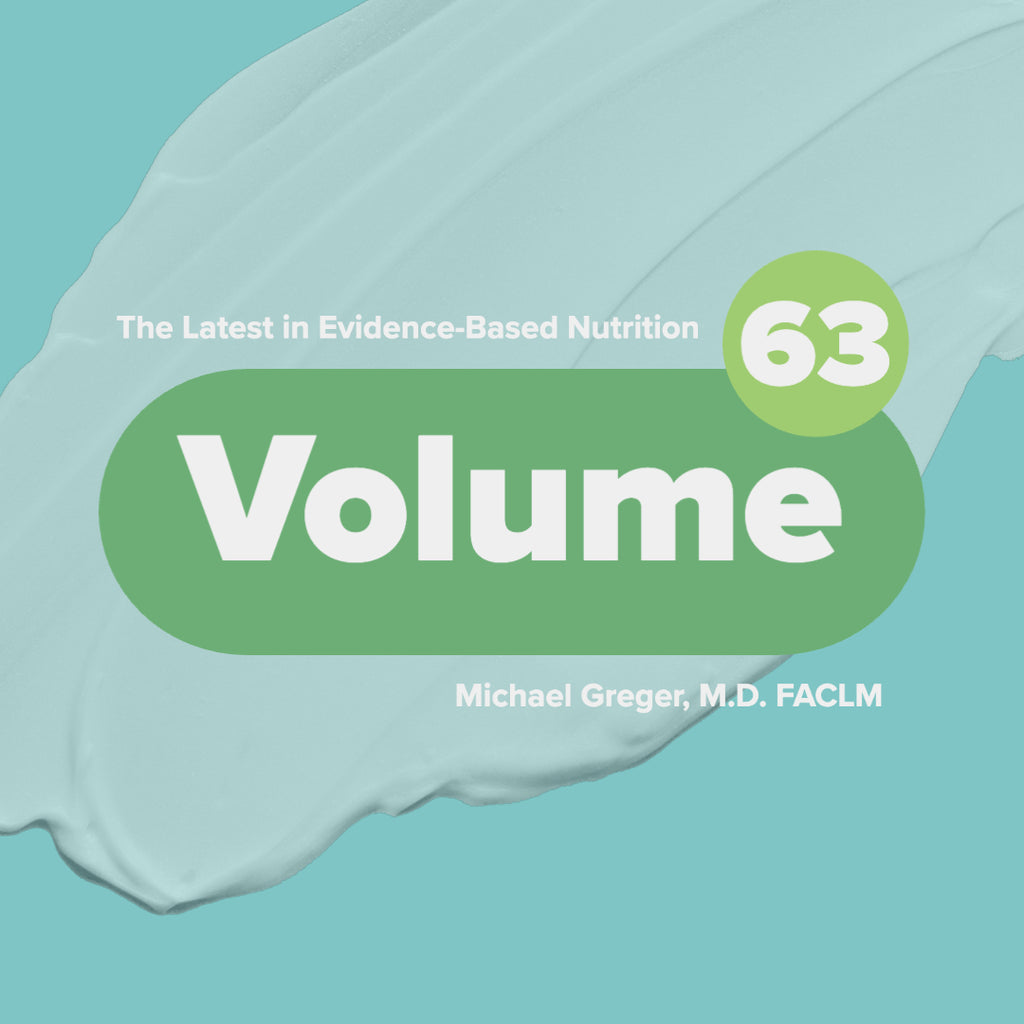 Latest in Clinical Nutrition - Volume 63 [Digital Download]
---
Overview

Dr. Greger reviews the latest cutting-edge science in this video presentation.
Chapters
1. Book Trailer for How Not to Age
2. The Best Diet for COVID and Long-COVID
3. The Best Moisturizers and Lubricants for Vaginal Menopause Symptoms
4. Hormone Treatment (Estrogen Pills and Creams) for Vaginal Menopause Symptoms
5. Soy Milk for Vaginal Menopause Symptoms
6. What Is Creatine? Can It Treat Sarcopenia (Muscle Loss with Age)?
7. Are There Any Side Effects to Taking Creatine?
8. Dietary Sources of the "Longevity Vitamin" Ergothioneine
9. Fall Prevention Is the Most Important Thing for Preventing Osteoporosis Bone Fractures
10. Update on Vegetarian Stroke Risk
11. Age-Related Hearing Loss Is Preventable—What Causes It?
12. The Supplement Shown to Slow Age-Related Hearing Loss
13. The Diet Shown to Slow Age-Related Hearing Loss
14. Controversy Around FDA's Approval of Biogen Alzheimer's Drug, Aducanumab
15. Caffeine Shampoo and Rosemary Oil for Hair Growth
16. Is It Possible to Reverse Aging and Live Forever?
17. How to Die a Good Death
18. VSED: The Benefits of Fasting for Ending Life
19. VSED: The Downsides of Fasting for Ending Life
20. Does Prevagen Really Work?
21. Menopausal Hot Flashes Are Not Inevitable
22. Soy Foods for Menopause Hot Flash Symptoms
23. What Is the Most Important Anti-Aging Cream Ingredient?
24. Topical Retinoids to Reverse Skin Aging
25. The Benefits of Topical Niacinamide for Reversing Skin Aging
26. The Benefits of Topical Vitamin C for Reversing Skin Aging

All of these videos are available for free on NutritionFacts.org.
Note: Please be advised that chapter 19 appears before chapters 17 and 18 in the video file.
---
Upon ordering, you will receive instant delivery of multiple, easy-to-view digital video formats:
Streaming Video
M4A File
---
Share this Product
---
More from this collection