How Not to Die Public Television Airing Schedule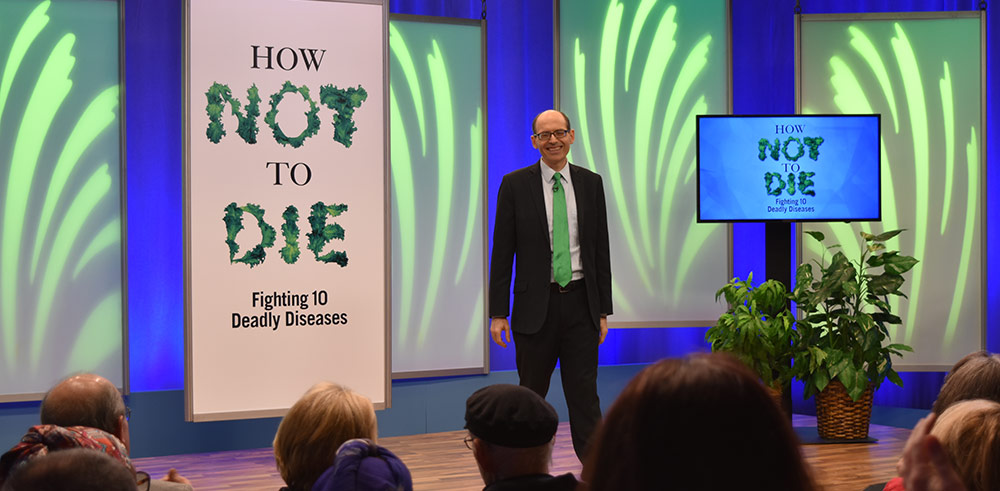 About How Not to Die
Based on Dr. Michael Greger's bestselling book, "How Not To Die" this program will take you through the top 10 common causes of premature death and how you can better your chances of avoiding and surviving them with a plant-based diet.
Dr. Greger explains the research behind his technique in a way that is not only easy to understand, but also entertaining. Learn how food can help heal. Discover which foods can aid in helping many of your health problems. Explore the scientific evidence on why certain foods have been proven to help or harm your wellbeing.
---
Don't miss How Not to Die, live, on your local public broadcasting station
Check the date listing below to see if the broadcast is available in your area.
| Date | Time | T.Z. | Channel | Market |
| --- | --- | --- | --- | --- |
| 11/25/17 | 2:30:00 PM | ET | WNETDT | New York |
| 11/25/17 | 4:30:00 AM | ET | WLVTDT | Philadelphia |
| 11/25/17 | 12:00:00 PM | ET | WFPTDT | Washington |
| 11/25/17 | 12:00:00 PM | ET | WWPBDT | Washington |
| 11/25/17 | 2:30:00 AM | CT | KUHTDT | Houston |
| 11/25/17 | 11:00:00 AM | CT | KUHTDT | Houston |
| 11/25/17 | 12:30:00 PM | PT | KRCBDT | San Francisco |
| 11/25/17 | 2:30:00 PM | ET | WENHDT | Boston |
| 11/25/17 | 11:00:00 AM | ET | WENHDT2 | Boston |
| 11/25/17 | 4:30:00 PM | ET | WGBHDT | Boston |
| 11/25/17 | 2:30:00 PM | ET | WEKWDT | Boston |
| 11/25/17 | 11:00:00 AM | ET | WEKWDT2 | Boston |
| 11/25/17 | 2:30:00 PM | ET | WTVSDT | Detroit |
| 11/25/17 | 8:00:00 AM | ET | WPBTDT | Miami |
| 11/25/17 | 2:00:00 PM | MT | KRMADT | Denver |
| 11/25/17 | 2:00:00 PM | MT | KRMZ | Denver |
| 11/25/17 | 2:00:00 PM | MT | KRMZDT | Denver |
| 11/25/17 | 6:30:00 AM | ET | WEAODT | Cleveland |
| 11/25/17 | 1:30:00 PM | CT | KETCDT | St. Louis |
| 11/25/17 | 12:00:00 PM | ET | WGPTDT | Pittsburgh |
| 11/25/17 | 8:30:00 AM | ET | WQEDDT | Pittsburgh |
| 11/25/17 | 3:00:00 PM | ET | WQEDDT | Pittsburgh |
| 11/25/17 | 12:00:00 PM | ET | WMPTDT | Baltimore |
| 11/25/17 | 2:00:00 PM | CT | WCTEDT | Nashville |
| 11/25/17 | 11:00:00 AM | CT | KCPTDT | Kansas City |
| 11/25/17 | 3:00:00 PM | ET | WPTODT5 | Cincinnati |
| 11/25/17 | 3:00:00 PM | ET | WPTODT | Cincinnati |
| 11/25/17 | 1:30:00 PM | CT | WMVSDT | Milwaukee |
| 11/25/17 | 10:00:00 AM | ET | WXELDT | West Palm |
| 11/25/17 | 12:30:00 PM | PT | KLVXDT | Las Vegas |
| 11/25/17 | 11:00:00 AM | ET | WJCTDT | Jacksonville |
| 11/25/17 | 12:00:00 PM | ET | WITFDT | Harrisburg-Lancaster |
| 11/25/17 | 2:00:00 PM | MT | KENWDT2 | Albuquerque |
| 11/25/17 | 2:00:00 PM | MT | KRMUDT | Albuquerque |
| 11/25/17 | 10:30:00 AM | PT | KVPTDT | Fresno-Visalia |
| 11/25/17 | 10:00:00 AM | ET | WCVEDT | Richmond-PtrBg |
| 11/25/17 | 12:30:00 PM | ET | WGCUDT | Ft Myers-Napls |
| 11/25/17 | 7:00:00 AM | ET | WGCUDT3 | Ft Myers-Napls |
| 11/25/17 | 12:30:00 PM | ET | WVIADT | Wilkes Barre |
| 11/25/17 | 10:30:00 AM | ET | WMHTDT | Albany-Schenectady |
| 11/25/17 | 10:30:00 AM | MT | KUASDT | Tucson |
| 11/25/17 | 10:30:00 AM | MT | KUATDT | Tucson |
| 11/25/17 | 11:00:00 AM | CT | KPTSDT | Wichita, KS |
| 11/25/17 | 11:00:00 AM | CT | KPTSDT2 | Wichita, KS |
| 11/25/17 | 12:00:00 PM | ET | WDCQDT3 | Flint-Saginaw |
| 11/25/17 | 12:00:00 PM | CT | KLTSDT | Shreveport |
| 11/25/17 | 2:30:00 PM | CT | KNCTDT | Waco-Temple-Bryan |
| 11/25/17 | 2:00:00 PM | MT | KTSCDT | Colorado Springs |
| 11/25/17 | 8:30:00 AM | ET | WTCIDT | Chattanooga |
| 11/25/17 | 9:30:00 AM | MT | KRWGDT | El Paso |
| 11/25/17 | 12:00:00 PM | CT | WLPBDT | Baton Rouge |
| 11/25/17 | 9:30:00 AM | CT | WMAUDT | Jackson, MS |
| 11/25/17 | 9:30:00 AM | CT | WMAVDT | Jackson, MS |
| 11/25/17 | 9:30:00 AM | CT | WMPNDT | Jackson, MS |
| 11/25/17 | 1:00:00 PM | ET | WCFEDT | Burlington |
| 11/25/17 | 2:30:00 PM | ET | WLEDDT | Burlington |
| 11/25/17 | 11:00:00 AM | ET | WLEDDT2 | Burlington |
| 11/25/17 | 3:30:00 PM | CT | WNINDT | Evansville |
| 11/25/17 | 8:00:00 AM | PT | KNPBDT | Reno |
| 11/25/17 | 4:30:00 PM | CT | KHNEDT3 | Lincoln-Hastings |
| 11/25/17 | 4:30:00 PM | CT | KUONDT3 | Lincoln-Hastings |
| 11/25/17 | 4:30:00 PM | CT | NET3 | Lincoln-Hastings |
| 11/25/17 | 11:30:00 AM | ET | WFSUDT | Tallahassee |
| 11/25/17 | 12:00:00 PM | CT | KCSDDT | Sioux Falls, SD |
| 11/25/17 | 12:00:00 PM | CT | KDSDDT | Sioux Falls, SD |
| 11/25/17 | 12:00:00 PM | CT | KESDDT | Sioux Falls, SD |
| 11/25/17 | 12:00:00 PM | CT | KPSDDT | Sioux Falls, SD |
| 11/25/17 | 12:00:00 PM | CT | KQSDDT | Sioux Falls, SD |
| 11/25/17 | 12:00:00 PM | CT | KTSDDT | Sioux Falls, SD |
| 11/25/17 | 12:00:00 PM | CT | KUSDDT | Sioux Falls, SD |
| 11/25/17 | 10:00:00 PM | CT | KCSDDT3 | Sioux Falls, SD |
| 11/25/17 | 10:00:00 PM | CT | KDSDDT3 | Sioux Falls, SD |
| 11/25/17 | 10:00:00 PM | CT | KESDDT3 | Sioux Falls, SD |
| 11/25/17 | 10:00:00 PM | CT | KPSDDT3 | Sioux Falls, SD |
| 11/25/17 | 10:00:00 PM | CT | KQSDDT3 | Sioux Falls, SD |
| 11/25/17 | 10:00:00 PM | CT | KTSDDT3 | Sioux Falls, SD |
| 11/25/17 | 10:00:00 PM | CT | KUSDDT3 | Sioux Falls, SD |
| 11/25/17 | 6:30:00 AM | ET | WNEODT | Youngstown |
| 11/25/17 | 12:00:00 PM | CT | KLPBDT | Lafayette, LA |
| 11/25/17 | 9:30:00 AM | CT | WMABDT | Columbus-Tupelo |
| 11/25/17 | 9:30:00 AM | CT | WMAEDT | Columbus-Tupelo |
| 11/25/17 | 3:30:00 PM | CT | KMOSDT | Columbia, MO |
| 11/25/17 | 12:00:00 PM | CT | KLTMDT | Monroe-El Dorado |
| 11/25/17 | 4:30:00 PM | CT | WDSEDT | Duluth-Superior |
| 11/25/17 | 4:30:00 PM | CT | WRPTDT | Duluth-Superior |
| 11/25/17 | 12:00:00 PM | ET | WCPBDT | Salisbury |
| 11/25/17 | 10:30:00 AM | CT | WFSGDT | Panama City |
| 11/25/17 | 9:30:00 AM | CT | WMAHDT | Biloxi-Gulfport |
| 11/25/17 | 10:00:00 AM | ET | WUFTDT | Gainesville |
| 11/25/17 | 11:00:00 AM | MT | KBHEDT | Rapid City |
| 11/25/17 | 12:00:00 PM | CT | KZSDDT | Rapid City |
| 11/25/17 | 9:00:00 PM | MT | KBHEDT3 | Rapid City |
| 11/25/17 | 10:00:00 PM | CT | KZSDDT3 | Rapid City |
| 11/25/17 | 12:00:00 PM | CT | KLTLDT | Lake Charles |
| 11/25/17 | 12:00:00 PM | CT | KLPADT | Alexandria, LA |
| 11/25/17 | 10:00:00 AM | ET | WHTJDT | Charlottesville |
| 11/25/17 | 2:00:00 PM | MT | KRMJDT | Grand Junction |
| 11/25/17 | 11:30:00 AM | ET | WBGUDT | Lima |
| 11/25/17 | 9:30:00 AM | CT | WMAWDT | Meridian |
| 11/25/17 | 9:30:00 AM | CT | WMAODT | Greenwood-Greenville |
| 11/25/17 | 3:30:00 PM | MT | KTNEDT3 | Cheyenne, WY |
| 11/26/17 | 1:00:00 PM | PT | KVCRDT | Los Angeles |
| 11/26/17 | 1:00:00 PM | CT | WTTWDT | Chicago |
| 11/26/17 | 8:00:00 AM | CT | WYINDT | Chicago |
| 11/26/17 | 1:30:00 PM | CT | WYINDT | Chicago |
| 11/26/17 | 1:00:00 AM | ET | WHYYDT | Philadelphia |
| 11/26/17 | 12:30:00 AM | ET | WFPTDT | Washington |
| 11/26/17 | 8:30:00 AM | ET | WFPTDT | Washington |
| 11/26/17 | 12:30:00 AM | ET | WWPBDT | Washington |
| 11/26/17 | 8:30:00 AM | ET | WWPBDT | Washington |
| 11/26/17 | 8:00:00 PM | CT | KUHTDT2 | Houston |
| 11/26/17 | 10:30:00 PM | ET | WENHDT2 | Boston |
| 11/26/17 | 4:30:00 PM | ET | WGBXDT | Boston |
| 11/26/17 | 10:30:00 PM | ET | WEKWDT2 | Boston |
| 11/26/17 | 3:30:00 PM | MT | KAETDT2 | Phoenix |
| 11/26/17 | 9:30:00 AM | ET | WEDUDT | Tampa |
| 11/26/17 | 10:00:00 AM | MT | KRMADT | Denver |
| 11/26/17 | 10:00:00 AM | MT | KRMZ | Denver |
| 11/26/17 | 10:00:00 AM | MT | KRMZDT | Denver |
| 11/26/17 | 12:30:00 AM | ET | WGPTDT | Pittsburgh |
| 11/26/17 | 8:30:00 AM | ET | WGPTDT | Pittsburgh |
| 11/26/17 | 6:00:00 AM | ET | WQEDDT | Pittsburgh |
| 11/26/17 | 12:30:00 AM | ET | WMPTDT | Baltimore |
| 11/26/17 | 8:30:00 AM | ET | WMPTDT | Baltimore |
| 11/26/17 | 10:30:00 PM | CT | WNPTDT | Nashville |
| 11/26/17 | 10:30:00 AM | ET | WFYIDT | Indianapolis |
| 11/26/17 | 12:00:00 PM | ET | WOUBDT | Columbus |
| 11/26/17 | 10:30:00 PM | CT | WMVSDT | Milwaukee |
| 11/26/17 | 8:30:00 AM | PT | KLVXDT | Las Vegas |
| 11/26/17 | 11:00:00 AM | MT | KNMEDT | Albuquerque |
| 11/26/17 | 10:00:00 AM | MT | KRMUDT | Albuquerque |
| 11/26/17 | 4:30:00 PM | ET | WSBEDT | Providence |
| 11/26/17 | 5:00:00 PM | ET | WNEDDT | Buffalo |
| 11/26/17 | 9:00:00 AM | PT | KVPTDT | Fresno-Visalia |
| 11/26/17 | 11:30:00 PM | ET | WGCUDT | Ft Myers-Napls |
| 11/26/17 | 8:30:00 AM | ET | WGCUDT3 | Ft Myers-Napls |
| 11/26/17 | 1:00:00 PM | CT | WSREDT | Mobile-Pensacola |
| 11/26/17 | 6:00:00 AM | ET | WMHTDT | Albany-Schenectady |
| 11/26/17 | 1:00:00 PM | ET | WPTDDT | Dayton |
| 11/26/17 | 1:30:00 AM | MT | KUASDT | Tucson |
| 11/26/17 | 1:30:00 AM | MT | KUATDT | Tucson |
| 11/26/17 | 12:00:00 PM | ET | WDCPDT | Flint-Saginaw |
| 11/26/17 | 12:00:00 PM | ET | WDCQDT | Flint-Saginaw |
| 11/26/17 | 8:00:00 AM | ET | WCMUDT3 | Flint-Saginaw |
| 11/26/17 | 2:00:00 PM | CT | KOZKDT | Springfield, MO |
| 11/26/17 | 10:00:00 AM | MT | KTSCDT | Colorado Springs |
| 11/26/17 | 5:00:00 PM | MT | KRWGDT | El Paso |
| 11/26/17 | 3:30:00 AM | ET | WCFEDT | Burlington |
| 11/26/17 | 11:30:00 AM | ET | WCFEDT | Burlington |
| 11/26/17 | 10:30:00 PM | ET | WLEDDT2 | Burlington |
| 11/26/17 | 1:30:00 PM | CT | WQPTDT | Davenport, IA |
| 11/26/17 | 12:00:00 PM | ET | WFSUDT | Tallahassee |
| 11/26/17 | 2:00:00 PM | CT | KCSDDT | Sioux Falls, SD |
| 11/26/17 | 2:00:00 PM | CT | KDSDDT | Sioux Falls, SD |
| 11/26/17 | 2:00:00 PM | CT | KESDDT | Sioux Falls, SD |
| 11/26/17 | 2:00:00 PM | CT | KPSDDT | Sioux Falls, SD |
| 11/26/17 | 2:00:00 PM | CT | KQSDDT | Sioux Falls, SD |
| 11/26/17 | 2:00:00 PM | CT | KTSDDT | Sioux Falls, SD |
| 11/26/17 | 2:00:00 PM | CT | KUSDDT | Sioux Falls, SD |
| 11/26/17 | 10:30:00 AM | ET | WKARDT | Lansing |
| 11/26/17 | 8:00:00 AM | ET | WCMVDT3 | Traverse City |
| 11/26/17 | 8:00:00 AM | ET | WCMWDT3 | Traverse City |
| 11/26/17 | 8:00:00 PM | PT | KIXEDT | Chico-Redding |
| 11/26/17 | 9:30:00 AM | CT | KTWUDT | Topeka |
| 11/26/17 | 12:30:00 AM | ET | WCPBDT | Salisbury |
| 11/26/17 | 8:30:00 AM | ET | WCPBDT | Salisbury |
| 11/26/17 | 1:00:00 AM | ET | WDPBDT | Salisbury |
| 11/26/17 | 3:30:00 PM | CT | KPBTDT | Odessa-Midland |
| 11/26/17 | 3:30:00 PM | CT | KPBT-2 | Odessa-Midland |
| 11/26/17 | 3:30:00 PM | CT | KPBTDT2 | Odessa-Midland |
| 11/26/17 | 11:00:00 AM | CT | WFSGDT | Panama City |
| 11/26/17 | 2:00:00 PM | CT | KOZJDT | Joplin-Pittsburg |
| 11/26/17 | 12:00:00 PM | ET | WOUCDT | Wheeling |
| 11/26/17 | 1:00:00 PM | MT | KBHEDT | Rapid City |
| 11/26/17 | 2:00:00 PM | CT | KZSDDT | Rapid City |
| 11/26/17 | 10:00:00 AM | MT | KRMJDT | Grand Junction |
| 11/26/17 | 8:00:00 AM | ET | WCMLDT3 | Alpena |
| 11/27/17 | 8:00:00 PM | ET | WEDWDT | New York |
| 11/27/17 | 11:30:00 PM | ET | WFPTDT | Washington |
| 11/27/17 | 11:30:00 PM | ET | WWPBDT | Washington |
| 11/27/17 | 1:30:00 PM | CT | KUHTDT2 | Houston |
| 11/27/17 | 8:00:00 PM | ET | WENHDT4 | Boston |
| 11/27/17 | 10:00:00 AM | ET | WGBXDT | Boston |
| 11/27/17 | 8:00:00 PM | ET | WGBHDT3 | Boston |
| 11/27/17 | 11:30:00 PM | ET | WPBTDT | Miami |
| 11/27/17 | 3:30:00 AM | MT | KRMADT | Denver |
| 11/27/17 | 3:30:00 AM | MT | KRMZ | Denver |
| 11/27/17 | 3:30:00 AM | MT | KRMZDT | Denver |
| 11/27/17 | 11:30:00 PM | ET | WGPTDT | Pittsburgh |
| 11/27/17 | 3:00:00 AM | ET | WQEDDT | Pittsburgh |
| 11/27/17 | 11:30:00 PM | ET | WMPTDT | Baltimore |
| 11/27/17 | 8:00:00 PM | ET | WEDHDT | Hartford |
| 11/27/17 | 8:00:00 PM | ET | WEDYDT3 | Hartford |
| 11/27/17 | 7:00:00 PM | MT | KENWDT2 | Albuquerque |
| 11/27/17 | 3:30:00 AM | MT | KRMUDT | Albuquerque |
| 11/27/17 | 8:00:00 PM | ET | WEDNDT | Providence |
| 11/27/17 | 1:00:00 AM | ET | WMHTDT | Albany-Schenectady |
| 11/27/17 | 12:00:00 PM | CT | KPTSDT | Wichita, KS |
| 11/27/17 | 1:30:00 AM | CT | KLTSDT | Shreveport |
| 11/27/17 | 3:30:00 AM | MT | KTSCDT | Colorado Springs |
| 11/27/17 | 1:30:00 AM | CT | WLPBDT | Baton Rouge |
| 11/27/17 | 10:30:00 PM | CT | WMAUDT | Jackson, MS |
| 11/27/17 | 10:30:00 PM | CT | WMAVDT | Jackson, MS |
| 11/27/17 | 10:30:00 PM | CT | WMPNDT | Jackson, MS |
| 11/27/17 | 12:00:00 AM | ET | WETKDT | Burlington |
| 11/27/17 | 12:00:00 AM | ET | WVERDT | Burlington |
| 11/27/17 | 12:00:00 AM | ET | WVTADT | Burlington |
| 11/27/17 | 12:00:00 AM | ET | WVTBDT | Burlington |
| 11/27/17 | 8:00:00 PM | ET | WLEDDT4 | Burlington |
| 11/27/17 | 12:00:00 AM | PT | KNPBDT | Reno |
| 11/27/17 | 10:00:00 PM | ET | WPSUDT | Johnstown-Altoona |
| 11/27/17 | 1:00:00 AM | ET | WFSUDT | Tallahassee |
| 11/27/17 | 1:30:00 AM | CT | KLPBDT | Lafayette, LA |
| 11/27/17 | 10:30:00 PM | CT | WMABDT | Columbus-Tupelo |
| 11/27/17 | 10:30:00 PM | CT | WMAEDT | Columbus-Tupelo |
| 11/27/17 | 12:30:00 AM | CT | KMOSDT | Columbia, MO |
| 11/27/17 | 1:30:00 AM | CT | KLTMDT | Monroe-El Dorado |
| 11/27/17 | 11:30:00 PM | ET | WCPBDT | Salisbury |
| 11/27/17 | 12:00:00 AM | CT | WFSGDT | Panama City |
| 11/27/17 | 10:30:00 PM | CT | WMAHDT | Biloxi-Gulfport |
| 11/27/17 | 1:30:00 AM | CT | KLTLDT | Lake Charles |
| 11/27/17 | 1:30:00 AM | CT | KLPADT | Alexandria, LA |
| 11/27/17 | 3:30:00 AM | MT | KRMJDT | Grand Junction |
| 11/27/17 | 10:30:00 PM | CT | WMAWDT | Meridian |
| 11/27/17 | 10:30:00 PM | CT | WMAODT | Greenwood-Greenville |
| 11/28/17 | 10:30:00 PM | PT | KVCRDT3 | Los Angeles |
| 11/28/17 | 1:00:00 AM | ET | WLVTDT | Philadelphia |
| 11/28/17 | 7:00:00 PM | ET | WGTVDT | Atlanta |
| 11/28/17 | 8:30:00 PM | ET | WGBXDT | Boston |
| 11/28/17 | 7:30:00 PM | ET | WTVSDT | Detroit |
| 11/28/17 | 1:30:00 PM | CT | KWCMDT2 | Minneapolis |
| 11/28/17 | 11:30:00 AM | CT | KCPTDT2 | Kansas City |
| 11/28/17 | 11:00:00 PM | CT | WMVSDT | Milwaukee |
| 11/28/17 | 12:30:00 AM | ET | WXELDT | West Palm |
| 11/28/17 | 2:30:00 AM | ET | WJCTDT | Jacksonville |
| 11/28/17 | 1:00:00 PM | ET | WJCTDT | Jacksonville |
| 11/28/17 | 7:00:00 PM | ET | WXGADT | Jacksonville |
| 11/28/17 | 11:30:00 PM | CT | WBIQDT | Birmingham |
| 11/28/17 | 11:30:00 PM | CT | WCIQDT | Birmingham |
| 11/28/17 | 1:00:00 PM | ET | WGCUDT | Ft Myers-Napls |
| 11/28/17 | 11:30:00 PM | ET | WGCUDT3 | Ft Myers-Napls |
| 11/28/17 | 11:30:00 PM | CT | WEIQDT | Mobile-Pensacola |
| 11/28/17 | 8:30:00 PM | CT | KOODDT | Wichita, KS |
| 11/28/17 | 8:30:00 PM | CT | KDCKDT | Wichita, KS |
| 11/28/17 | 8:30:00 PM | CT | KSWKDT | Wichita, KS |
| 11/28/17 | 8:30:00 PM | CT | KWKSDT | Wichita, KS |
| 11/28/17 | 1:30:00 PM | ET | WDCQDT3 | Flint-Saginaw |
| 11/28/17 | 12:30:00 PM | CT | KOZKDT | Springfield, MO |
| 11/28/17 | 11:00:00 PM | ET | WGTEDT | Toledo |
| 11/28/17 | 11:30:00 PM | CT | WFIQDT | Huntsville-Decatur |
| 11/28/17 | 11:30:00 PM | CT | WHIQDT | Huntsville-Decatur |
| 11/28/17 | 7:00:00 PM | ET | WNGHDT | Chattanooga |
| 11/28/17 | 12:00:00 AM | ET | WTCIDT | Chattanooga |
| 11/28/17 | 7:00:00 PM | ET | WVANDT | Savannah |
| 11/28/17 | 6:30:00 PM | CT | WMPNDT3 | Jackson, MS |
| 11/28/17 | 10:30:00 PM | CT | KCSDDT3 | Sioux Falls, SD |
| 11/28/17 | 10:30:00 PM | CT | KDSDDT3 | Sioux Falls, SD |
| 11/28/17 | 10:30:00 PM | CT | KESDDT3 | Sioux Falls, SD |
| 11/28/17 | 10:30:00 PM | CT | KPSDDT3 | Sioux Falls, SD |
| 11/28/17 | 10:30:00 PM | CT | KQSDDT3 | Sioux Falls, SD |
| 11/28/17 | 1:30:00 PM | CT | KSMNDT2 | Sioux Falls, SD |
| 11/28/17 | 10:30:00 PM | CT | KTSDDT3 | Sioux Falls, SD |
| 11/28/17 | 10:30:00 PM | CT | KUSDDT3 | Sioux Falls, SD |
| 11/28/17 | 7:00:00 PM | ET | WCESDT | Augusta |
| 11/28/17 | 7:00:00 PM | ET | WMUMDT | Macon |
| 11/28/17 | 11:30:00 PM | CT | WAIQDT | Montgomery (Selma) |
| 11/28/17 | 11:30:00 PM | CT | WDIQDT | Montgomery (Selma) |
| 11/28/17 | 11:30:00 PM | CT | WGIQDT | Montgomery (Selma) |
| 11/28/17 | 11:30:00 PM | CT | WIIQDT | Montgomery (Selma) |
| 11/28/17 | 7:00:00 PM | ET | WJSPDT | Columbus, GA |
| 11/28/17 | 12:30:00 PM | CT | KOZJDT | Joplin-Pittsburg |
| 11/28/17 | 7:00:00 PM | ET | WABWDT | Albany, GA |
| 11/28/17 | 7:00:00 PM | ET | WACSDT | Albany, GA |
| 11/28/17 | 6:30:00 PM | CT | WMAHDT3 | Biloxi-Gulfport |
| 11/28/17 | 9:30:00 PM | MT | KBHEDT3 | Rapid City |
| 11/28/17 | 10:30:00 PM | CT | KZSDDT3 | Rapid City |
| 11/28/17 | 6:30:00 PM | CT | WMAWDT3 | Meridian |
| 11/29/17 | 1:00:00 AM | ET | WEDWDT | New York |
| 11/29/17 | 1:00:00 PM | ET | WFPTDT | Washington |
| 11/29/17 | 1:00:00 PM | ET | WWPBDT | Washington |
| 11/29/17 | 3:30:00 AM | CT | KUHTDT | Houston |
| 11/29/17 | 3:30:00 PM | CT | KUHTDT2 | Houston |
| 11/29/17 | 9:30:00 PM | ET | WENHDT2 | Boston |
| 11/29/17 | 9:30:00 PM | ET | WEKWDT2 | Boston |
| 11/29/17 | 4:30:00 AM | CT | KWCMDT | Minneapolis |
| 11/29/17 | 4:00:00 AM | MT | KRMADT | Denver |
| 11/29/17 | 11:30:00 PM | MT | KRMADT | Denver |
| 11/29/17 | 4:00:00 AM | MT | KRMZ | Denver |
| 11/29/17 | 11:30:00 PM | MT | KRMZ | Denver |
| 11/29/17 | 4:00:00 AM | MT | KRMZDT | Denver |
| 11/29/17 | 11:30:00 PM | MT | KRMZDT | Denver |
| 11/29/17 | 3:30:00 AM | ET | WEAODT | Cleveland |
| 11/29/17 | 10:30:00 PM | CT | KETCDT | St. Louis |
| 11/29/17 | 1:00:00 PM | ET | WGPTDT | Pittsburgh |
| 11/29/17 | 10:00:00 PM | ET | WQEDDT | Pittsburgh |
| 11/29/17 | 1:00:00 PM | ET | WMPTDT | Baltimore |
| 11/29/17 | 1:00:00 AM | ET | WEDHDT | Hartford |
| 11/29/17 | 1:00:00 AM | ET | WEDYDT3 | Hartford |
| 11/29/17 | 10:00:00 PM | ET | WOUBDT | Columbus |
| 11/29/17 | 3:30:00 AM | ET | WITFDT | Harrisburg-Lancaster |
| 11/29/17 | 12:00:00 PM | ET | WITFDT | Harrisburg-Lancaster |
| 11/29/17 | 8:30:00 PM | MT | KENWDT | Albuquerque |
| 11/29/17 | 9:00:00 PM | MT | KNMEDT | Albuquerque |
| 11/29/17 | 4:00:00 AM | MT | KRMUDT | Albuquerque |
| 11/29/17 | 11:30:00 PM | MT | KRMUDT | Albuquerque |
| 11/29/17 | 1:00:00 AM | ET | WEDNDT | Providence |
| 11/29/17 | 1:00:00 AM | PT | KVPTDT | Fresno-Visalia |
| 11/29/17 | 1:00:00 AM | ET | WVIADT | Wilkes Barre |
| 11/29/17 | 4:30:00 AM | ET | WMHTDT | Albany-Schenectady |
| 11/29/17 | 3:30:00 AM | CT | KOZKDT | Springfield, MO |
| 11/29/17 | 11:30:00 AM | CT | KNCTDT | Waco-Temple-Bryan |
| 11/29/17 | 4:00:00 AM | MT | KTSCDT | Colorado Springs |
| 11/29/17 | 11:30:00 PM | MT | KTSCDT | Colorado Springs |
| 11/29/17 | 8:30:00 PM | MT | KCOSDT | El Paso |
| 11/29/17 | 8:30:00 PM | MT | KCOS-X | El Paso |
| 11/29/17 | 12:30:00 AM | ET | WETKDT | Burlington |
| 11/29/17 | 12:30:00 AM | ET | WVERDT | Burlington |
| 11/29/17 | 12:30:00 AM | ET | WVTADT | Burlington |
| 11/29/17 | 12:30:00 AM | ET | WVTBDT | Burlington |
| 11/29/17 | 9:30:00 PM | ET | WLEDDT2 | Burlington |
| 11/29/17 | 3:30:00 AM | ET | WFSUDT | Tallahassee |
| 11/29/17 | 4:30:00 AM | CT | KSMNDT | Sioux Falls, SD |
| 11/29/17 | 3:30:00 AM | ET | WKARDT | Lansing |
| 11/29/17 | 12:00:00 PM | ET | WKARDT | Lansing |
| 11/29/17 | 3:30:00 AM | ET | WNEODT | Youngstown |
| 11/29/17 | 9:30:00 PM | PT | KFTSDT | Medford, OR |
| 11/29/17 | 9:30:00 PM | PT | KSYSDT | Medford, OR |
| 11/29/17 | 1:00:00 PM | ET | WCPBDT | Salisbury |
| 11/29/17 | 2:30:00 AM | CT | WFSGDT | Panama City |
| 11/29/17 | 3:30:00 AM | CT | KOZJDT | Joplin-Pittsburg |
| 11/29/17 | 10:00:00 PM | ET | WOUCDT | Wheeling |
| 11/29/17 | 4:00:00 AM | MT | KRMJDT | Grand Junction |
| 11/29/17 | 11:30:00 PM | MT | KRMJDT | Grand Junction |
| 11/30/17 | 12:00:00 AM | CT | WTTWDT | Chicago |
| 11/30/17 | 4:00:00 AM | CT | WTTWDT | Chicago |
| 11/30/17 | 1:00:00 AM | ET | WHYYDT | Philadelphia |
| 11/30/17 | 4:30:00 AM | ET | WHYYDT | Philadelphia |
| 11/30/17 | 11:30:00 PM | ET | WLVTDT | Philadelphia |
| 11/30/17 | 8:30:00 AM | CT | KUHTDT2 | Houston |
| 11/30/17 | 7:00:00 PM | ET | WENHDT4 | Boston |
| 11/30/17 | 7:00:00 PM | ET | WGBHDT3 | Boston |
| 11/30/17 | 4:30:00 AM | ET | WJCTDT | Jacksonville |
| 11/30/17 | 11:30:00 PM | CT | WBIQDT | Birmingham |
| 11/30/17 | 11:30:00 PM | CT | WCIQDT | Birmingham |
| 11/30/17 | 1:00:00 PM | ET | WSBEDT | Providence |
| 11/30/17 | 7:30:00 PM | ET | WSBEDT | Providence |
| 11/30/17 | 12:00:00 PM | ET | WGCUDT | Ft Myers-Napls |
| 11/30/17 | 9:30:00 PM | CT | KEMVDT | Little Rock, AR |
| 11/30/17 | 9:30:00 PM | CT | KETGDT | Little Rock, AR |
| 11/30/17 | 9:30:00 PM | CT | KETSDT | Little Rock, AR |
| 11/30/17 | 11:30:00 PM | CT | WEIQDT | Mobile-Pensacola |
| 11/30/17 | 8:00:00 PM | ET | WETPDT | Knoxville |
| 11/30/17 | 8:00:00 PM | ET | WKOPDT | Knoxville |
| 11/30/17 | 10:30:00 PM | ET | WVPBDT | Charleston, WV |
| 11/30/17 | 11:30:00 PM | CT | WFIQDT | Huntsville-Decatur |
| 11/30/17 | 11:30:00 PM | CT | WHIQDT | Huntsville-Decatur |
| 11/30/17 | 7:00:00 PM | ET | WLEDDT4 | Burlington |
| 11/30/17 | 9:30:00 PM | CT | KAFTDT | Ft. Smith, AR |
| 11/30/17 | 4:00:00 AM | CT | WQPTDT | Davenport, IA |
| 11/30/17 | 4:00:00 PM | PT | KNPBDT | Reno |
| 11/30/17 | 1:30:00 PM | ET | WPSUDT | Johnstown-Altoona |
| 11/30/17 | 11:30:00 PM | CT | WAIQDT | Montgomery (Selma) |
| 11/30/17 | 11:30:00 PM | CT | WDIQDT | Montgomery (Selma) |
| 11/30/17 | 11:30:00 PM | CT | WGIQDT | Montgomery (Selma) |
| 11/30/17 | 11:30:00 PM | CT | WIIQDT | Montgomery (Selma) |
| 11/30/17 | 9:30:00 PM | CT | KETZDT | Monroe-El Dorado |
| 11/30/17 | 1:00:00 AM | ET | WDPBDT | Salisbury |
| 11/30/17 | 4:30:00 AM | ET | WDPBDT | Salisbury |
| 11/30/17 | 10:30:00 PM | ET | WSWPDT | Bluefield-Beckley |
| 11/30/17 | 10:30:00 PM | ET | WVPBSDT | Bluefield-Beckley |
| 11/30/17 | 10:30:00 PM | ET | WNPBDT | Clarksburg-Weston |
| 11/30/17 | 9:30:00 PM | CT | KTEJDT | Jonesboro |
| 12/1/17 | 2:30:00 AM | CT | WYINDT | Chicago |
| 12/1/17 | 2:30:00 AM | CT | KUHTDT | Houston |
| 12/1/17 | 5:00:00 PM | ET | WENHDT4 | Boston |
| 12/1/17 | 5:00:00 PM | ET | WGBHDT3 | Boston |
| 12/1/17 | 5:30:00 PM | MT | KAETDT2 | Phoenix |
| 12/1/17 | 2:00:00 PM | ET | WUCFDT2 | Orlando |
| 12/1/17 | 11:30:00 PM | CT | KETCDT | St. Louis |
| 12/1/17 | 1:30:00 PM | ET | WTVIDT | Charlotte |
| 12/1/17 | 11:00:00 PM | ET | WGVKDT | Grand Rapids |
| 12/1/17 | 11:00:00 PM | ET | WGVUDT | Grand Rapids |
| 12/1/17 | 5:00:00 AM | ET | WGCUDT3 | Ft Myers-Napls |
| 12/1/17 | 2:00:00 PM | ET | WDCQDT3 | Flint-Saginaw |
| 12/1/17 | 1:00:00 AM | CT | KOZKDT | Springfield, MO |
| 12/1/17 | 11:30:00 PM | ET | WTCIDT | Chattanooga |
| 12/1/17 | 4:00:00 PM | CT | WMPNDT3 | Jackson, MS |
| 12/1/17 | 4:00:00 AM | ET | WCFEDT | Burlington |
| 12/1/17 | 12:00:00 PM | ET | WCFEDT | Burlington |
| 12/1/17 | 5:00:00 PM | ET | WLEDDT4 | Burlington |
| 12/1/17 | 12:00:00 AM | CT | WQPTDT | Davenport, IA |
| 12/1/17 | 9:00:00 PM | CT | WQPTDT | Davenport, IA |
| 12/1/17 | 10:00:00 PM | PT | KNPBDT | Reno |
| 12/1/17 | 9:00:00 PM | CT | KCSDDT | Sioux Falls, SD |
| 12/1/17 | 9:00:00 PM | CT | KDSDDT | Sioux Falls, SD |
| 12/1/17 | 9:00:00 PM | CT | KESDDT | Sioux Falls, SD |
| 12/1/17 | 9:00:00 PM | CT | KPSDDT | Sioux Falls, SD |
| 12/1/17 | 9:00:00 PM | CT | KQSDDT | Sioux Falls, SD |
| 12/1/17 | 9:00:00 PM | CT | KTSDDT | Sioux Falls, SD |
| 12/1/17 | 9:00:00 PM | CT | KUSDDT | Sioux Falls, SD |
| 12/1/17 | 10:30:00 PM | ET | WKARDT2 | Lansing |
| 12/1/17 | 8:30:00 PM | CT | KMOSDT2 | Columbia, MO |
| 12/1/17 | 11:30:00 PM | CT | WFSGDT | Panama City |
| 12/1/17 | 1:00:00 AM | CT | KOZJDT | Joplin-Pittsburg |
| 12/1/17 | 4:00:00 PM | CT | WMAHDT3 | Biloxi-Gulfport |
| 12/1/17 | 8:00:00 PM | MT | KBHEDT | Rapid City |
| 12/1/17 | 9:00:00 PM | CT | KZSDDT | Rapid City |
| 12/1/17 | 4:00:00 PM | CT | WMAWDT3 | Meridian |
| 12/1/17 | 11:00:00 PM | MT | KWYPDT | Cheyenne, WY |
| 12/1/17 | 11:00:00 PM | MT | KCWCDT | Casper-Riverton |
| 12/1/17 | 11:00:00 PM | MT | KPTWDT | Casper-Riverton |
| 12/2/17 | 9:30:00 AM | ET | WEDWDT | New York |
| 12/2/17 | 5:00:00 AM | CT | WTTWDT | Chicago |
| 12/2/17 | 2:00:00 PM | CT | WYINDT | Chicago |
| 12/2/17 | 3:30:00 PM | ET | WHYYDT | Philadelphia |
| 12/2/17 | 1:30:00 AM | ET | WLVTDT | Philadelphia |
| 12/2/17 | 10:00:00 AM | ET | WGTVDT | Atlanta |
| 12/2/17 | 2:00:00 PM | CT | KWCMDT2 | Minneapolis |
| 12/2/17 | 12:00:00 PM | MT | KBDIDT | Denver |
| 12/2/17 | 9:30:00 AM | ET | WTVIDT | Charlotte |
| 12/2/17 | 10:30:00 AM | CT | WCTEDT | Nashville |
| 12/2/17 | 9:00:00 AM | CT | WNPTDT | Nashville |
| 12/2/17 | 1:30:00 PM | ET | WIPBDT | Indianapolis |
| 12/2/17 | 9:30:00 AM | ET | WEDHDT | Hartford |
| 12/2/17 | 9:30:00 AM | ET | WEDYDT3 | Hartford |
| 12/2/17 | 10:00:00 AM | ET | WCETDT | Cincinnati |
| 12/2/17 | 11:30:00 AM | ET | WCETDT2 | Cincinnati |
| 12/2/17 | 10:00:00 AM | ET | WXGADT | Jacksonville |
| 12/2/17 | 9:30:00 AM | MT | KENWDT | Albuquerque |
| 12/2/17 | 8:30:00 AM | MT | KNMEDT | Albuquerque |
| 12/2/17 | 9:30:00 AM | ET | WEDNDT | Providence |
| 12/2/17 | 1:30:00 AM | ET | WNEDDT | Buffalo |
| 12/2/17 | 10:00:00 AM | ET | WGCUDT | Ft Myers-Napls |
| 12/2/17 | 1:00:00 PM | ET | WGCUDT3 | Ft Myers-Napls |
| 12/2/17 | 4:00:00 PM | CT | KEMVDT | Little Rock, AR |
| 12/2/17 | 4:00:00 PM | CT | KETGDT | Little Rock, AR |
| 12/2/17 | 4:00:00 PM | CT | KETSDT | Little Rock, AR |
| 12/2/17 | 11:00:00 AM | CT | WSREDT | Mobile-Pensacola |
| 12/2/17 | 4:30:00 AM | ET | WMHTDT | Albany-Schenectady |
| 12/2/17 | 3:00:00 PM | ET | WETPDT | Knoxville |
| 12/2/17 | 1:00:00 PM | ET | WETPDT3 | Knoxville |
| 12/2/17 | 3:00:00 PM | ET | WKOPDT | Knoxville |
| 12/2/17 | 1:00:00 PM | ET | WKOPDT3 | Knoxville |
| 12/2/17 | 10:00:00 AM | ET | WNGHDT | Chattanooga |
| 12/2/17 | 10:00:00 AM | ET | WVANDT | Savannah |
| 12/2/17 | 9:00:00 AM | ET | WNITDT | South Bend-Elkhart |
| 12/2/17 | 4:00:00 PM | CT | KAFTDT | Ft. Smith, AR |
| 12/2/17 | 2:00:00 PM | CT | WQPTDT | Davenport, IA |
| 12/2/17 | 1:00:00 PM | ET | WPSUDT | Johnstown-Altoona |
| 12/2/17 | 12:30:00 AM | ET | WFSUDT | Tallahassee |
| 12/2/17 | 1:30:00 PM | ET | WFSUDT | Tallahassee |
| 12/2/17 | 2:00:00 PM | CT | KSMNDT2 | Sioux Falls, SD |
| 12/2/17 | 10:00:00 AM | ET | WCESDT | Augusta |
| 12/2/17 | 12:00:00 PM | ET | WKARDT2 | Lansing |
| 12/2/17 | 10:00:00 AM | ET | WMUMDT | Macon |
| 12/2/17 | 10:00:00 AM | ET | WJSPDT | Columbus, GA |
| 12/2/17 | 2:00:00 AM | PT | KFTSDT | Medford, OR |
| 12/2/17 | 2:00:00 AM | PT | KSYSDT | Medford, OR |
| 12/2/17 | 4:00:00 PM | CT | KETZDT | Monroe-El Dorado |
| 12/2/17 | 1:30:00 PM | CT | WDSEDT2 | Duluth-Superior |
| 12/2/17 | 1:30:00 PM | CT | WRPTDT2 | Duluth-Superior |
| 12/2/17 | 3:30:00 PM | ET | WDPBDT | Salisbury |
| 12/2/17 | 1:00:00 PM | CT | KTTZDT | Lubbock |
| 12/2/17 | 12:30:00 PM | CT | WFSGDT | Panama City |
| 12/2/17 | 10:00:00 AM | ET | WABWDT | Albany, GA |
| 12/2/17 | 10:00:00 AM | ET | WACSDT | Albany, GA |
| 12/2/17 | 2:00:00 PM | ET | WUFTDT | Gainesville |
| 12/2/17 | 4:00:00 PM | CT | KTEJDT | Jonesboro |
| 12/2/17 | 10:30:00 AM | MT | KWYPDT | Cheyenne, WY |
| 12/2/17 | 10:30:00 AM | MT | KCWCDT | Casper-Riverton |
| 12/2/17 | 10:30:00 AM | MT | KPTWDT | Casper-Riverton |
| 12/3/17 | 1:00:00 AM | PT | KVCRDT | Los Angeles |
| 12/3/17 | 6:30:00 AM | CT | WTTWDT | Chicago |
| 12/3/17 | 12:30:00 PM | CT | WYINDT | Chicago |
| 12/3/17 | 11:30:00 PM | CT | WYINDT | Chicago |
| 12/3/17 | 7:30:00 AM | ET | WHYYDT | Philadelphia |
| 12/3/17 | 11:00:00 PM | CT | KUHTDT | Houston |
| 12/3/17 | 2:00:00 PM | PT | KRCBDT | San Francisco |
| 12/3/17 | 12:30:00 PM | MT | KAETDT2 | Phoenix |
| 12/3/17 | 11:00:00 PM | ET | WEDUDT | Tampa |
| 12/3/17 | 5:30:00 AM | ET | WLRNDT | Miami |
| 12/3/17 | 6:00:00 AM | ET | WTVIDT | Charlotte |
| 12/3/17 | 12:30:00 PM | ET | WTVIDT | Charlotte |
| 12/3/17 | 3:30:00 AM | ET | WQEDDT | Pittsburgh |
| 12/3/17 | 11:30:00 PM | CT | WCTEDT | Nashville |
| 12/3/17 | 12:00:00 AM | ET | WFYIDT | Indianapolis |
| 12/3/17 | 11:30:00 PM | ET | WOUBDT | Columbus |
| 12/3/17 | 10:00:00 AM | CT | WMVTDT | Milwaukee |
| 12/3/17 | 4:00:00 AM | ET | WITFDT | Harrisburg-Lancaster |
| 12/3/17 | 2:00:00 PM | MT | KENWDT2 | Albuquerque |
| 12/3/17 | 3:30:00 AM | MT | KNMEDT | Albuquerque |
| 12/3/17 | 8:00:00 AM | ET | WMHTDT | Albany-Schenectady |
| 12/3/17 | 1:30:00 PM | CT | KPTSDT | Wichita, KS |
| 12/3/17 | 4:00:00 PM | ET | WDCQDT3 | Flint-Saginaw |
| 12/3/17 | 1:30:00 PM | CT | WSIUDT | Paducah-Cape Girard |
| 12/3/17 | 9:00:00 AM | CT | KLTSDT | Shreveport |
| 12/3/17 | 11:30:00 PM | CT | KLTSDT3 | Shreveport |
| 12/3/17 | 4:00:00 PM | CT | WSECDT | Champaign, IL |
| 12/3/17 | 9:00:00 AM | CT | WLPBDT | Baton Rouge |
| 12/3/17 | 11:30:00 PM | CT | WLPBDT3 | Baton Rouge |
| 12/3/17 | 7:00:00 PM | CT | WMPNDT3 | Jackson, MS |
| 12/3/17 | 4:00:00 AM | ET | WCFEDT | Burlington |
| 12/3/17 | 9:00:00 AM | PT | KNPBDT | Reno |
| 12/3/17 | 3:30:00 PM | ET | WKARDT3 | Lansing |
| 12/3/17 | 9:00:00 AM | CT | KLPBDT | Lafayette, LA |
| 12/3/17 | 11:30:00 PM | CT | KLPBDT3 | Lafayette, LA |
| 12/3/17 | 12:00:00 PM | CT | KEDTDT | Corpus Christi |
| 12/3/17 | 5:00:00 PM | CT | KMOSDT2 | Columbia, MO |
| 12/3/17 | 9:00:00 AM | CT | KLTMDT | Monroe-El Dorado |
| 12/3/17 | 11:30:00 PM | CT | KLTMDT3 | Monroe-El Dorado |
| 12/3/17 | 7:30:00 AM | ET | WDPBDT | Salisbury |
| 12/3/17 | 10:30:00 AM | ET | WQLNDT | Erie |
| 12/3/17 | 8:00:00 PM | CT | KSMQDT | Rochester, MN |
| 12/3/17 | 1:30:00 PM | CT | WUSIDT | Terre Haute |
| 12/3/17 | 7:00:00 PM | CT | WMAHDT3 | Biloxi-Gulfport |
| 12/3/17 | 11:30:00 PM | ET | WOUCDT | Wheeling |
| 12/3/17 | 4:00:00 PM | CT | WMECDT | Quincy-Hannibal |
| 12/3/17 | 4:00:00 PM | CT | WQECDT | Quincy-Hannibal |
| 12/3/17 | 9:00:00 AM | CT | KLTLDT | Lake Charles |
| 12/3/17 | 11:30:00 PM | CT | KLTLDT3 | Lake Charles |
| 12/3/17 | 9:00:00 AM | CT | KLPADT | Alexandria, LA |
| 12/3/17 | 11:30:00 PM | CT | KLPADT3 | Alexandria, LA |
| 12/3/17 | 7:00:00 PM | CT | WMAWDT3 | Meridian |
| 12/3/17 | 3:30:00 AM | PT | KEETDT | Eureka |
| 12/3/17 | 11:30:00 PM | PT | KEETDT | Eureka |
| 12/3/17 | 2:00:00 AM | MT | KWYPDT | Cheyenne, WY |
| 12/3/17 | 2:00:00 AM | MT | KCWCDT | Casper-Riverton |
| 12/3/17 | 2:00:00 AM | MT | KPTWDT | Casper-Riverton |
| 12/4/17 | 3:00:00 AM | CT | WTTWDT | Chicago |
| 12/4/17 | 11:00:00 PM | ET | WGTVDT | Atlanta |
| 12/4/17 | 4:00:00 AM | ET | WTVSDT | Detroit |
| 12/4/17 | 7:30:00 AM | MT | KBDIDT | Denver |
| 12/4/17 | 5:30:00 PM | ET | WUCFDT2 | Orlando |
| 12/4/17 | 2:30:00 AM | ET | WOUBDT | Columbus |
| 12/4/17 | 11:00:00 PM | ET | WXGADT | Jacksonville |
| 12/4/17 | 3:30:00 AM | ET | WGVKDT | Grand Rapids |
| 12/4/17 | 3:30:00 AM | ET | WGVUDT | Grand Rapids |
| 12/4/17 | 9:00:00 PM | CT | WBIQDT | Birmingham |
| 12/4/17 | 9:00:00 PM | CT | WCIQDT | Birmingham |
| 12/4/17 | 2:00:00 AM | ET | WNEDDT | Buffalo |
| 12/4/17 | 5:00:00 AM | ET | WGCUDT3 | Ft Myers-Napls |
| 12/4/17 | 4:30:00 PM | ET | WGCUDT3 | Ft Myers-Napls |
| 12/4/17 | 3:00:00 AM | CT | KEMVDT | Little Rock, AR |
| 12/4/17 | 10:30:00 PM | CT | KEMVDT | Little Rock, AR |
| 12/4/17 | 3:00:00 AM | CT | KETGDT | Little Rock, AR |
| 12/4/17 | 10:30:00 PM | CT | KETGDT | Little Rock, AR |
| 12/4/17 | 3:00:00 AM | CT | KETSDT | Little Rock, AR |
| 12/4/17 | 10:30:00 PM | CT | KETSDT | Little Rock, AR |
| 12/4/17 | 9:00:00 PM | CT | WEIQDT | Mobile-Pensacola |
| 12/4/17 | 9:00:00 PM | CT | WFIQDT | Huntsville-Decatur |
| 12/4/17 | 9:00:00 PM | CT | WHIQDT | Huntsville-Decatur |
| 12/4/17 | 11:00:00 PM | ET | WNGHDT | Chattanooga |
| 12/4/17 | 11:00:00 PM | ET | WVANDT | Savannah |
| 12/4/17 | 12:30:00 AM | CT | WMAUDT | Jackson, MS |
| 12/4/17 | 12:30:00 AM | CT | WMAVDT | Jackson, MS |
| 12/4/17 | 12:30:00 AM | CT | WMPNDT | Jackson, MS |
| 12/4/17 | 3:00:00 AM | CT | KAFTDT | Ft. Smith, AR |
| 12/4/17 | 10:30:00 PM | CT | KAFTDT | Ft. Smith, AR |
| 12/4/17 | 4:30:00 AM | PT | KNPBDT | Reno |
| 12/4/17 | 11:00:00 PM | ET | WCESDT | Augusta |
| 12/4/17 | 11:00:00 PM | ET | WMUMDT | Macon |
| 12/4/17 | 9:00:00 PM | CT | WAIQDT | Montgomery (Selma) |
| 12/4/17 | 9:00:00 PM | CT | WDIQDT | Montgomery (Selma) |
| 12/4/17 | 9:00:00 PM | CT | WGIQDT | Montgomery (Selma) |
| 12/4/17 | 9:00:00 PM | CT | WIIQDT | Montgomery (Selma) |
| 12/4/17 | 11:00:00 PM | ET | WJSPDT | Columbus, GA |
| 12/4/17 | 12:30:00 AM | CT | WMABDT | Columbus-Tupelo |
| 12/4/17 | 12:30:00 AM | CT | WMAEDT | Columbus-Tupelo |
| 12/4/17 | 3:00:00 AM | CT | KETZDT | Monroe-El Dorado |
| 12/4/17 | 10:30:00 PM | CT | KETZDT | Monroe-El Dorado |
| 12/4/17 | 2:00:00 AM | CT | KTTZDT | Lubbock |
| 12/4/17 | 11:00:00 PM | ET | WABWDT | Albany, GA |
| 12/4/17 | 11:00:00 PM | ET | WACSDT | Albany, GA |
| 12/4/17 | 12:30:00 AM | CT | WMAHDT | Biloxi-Gulfport |
| 12/4/17 | 2:30:00 AM | ET | WOUCDT | Wheeling |
| 12/4/17 | 11:30:00 PM | ET | WUFTDT | Gainesville |
| 12/4/17 | 3:00:00 AM | CT | KTEJDT | Jonesboro |
| 12/4/17 | 10:30:00 PM | CT | KTEJDT | Jonesboro |
| 12/4/17 | 12:30:00 AM | CT | WMAWDT | Meridian |
| 12/4/17 | 12:30:00 AM | CT | WMAODT | Greenwood-Greenville |
| 12/5/17 | 4:00:00 AM | MT | KBDIDT | Denver |
| 12/5/17 | 10:30:00 PM | ET | WUCFDT2 | Orlando |
| 12/5/17 | 3:30:00 AM | ET | WEAODT | Cleveland |
| 12/5/17 | 7:00:00 PM | ET | WTVIDT | Charlotte |
| 12/5/17 | 11:30:00 AM | CT | KCPTDT2 | Kansas City |
| 12/5/17 | 12:00:00 AM | ET | WGCUDT | Ft Myers-Napls |
| 12/5/17 | 12:30:00 AM | CT | KEMVDT | Little Rock, AR |
| 12/5/17 | 12:30:00 AM | CT | KETGDT | Little Rock, AR |
| 12/5/17 | 12:30:00 AM | CT | KETSDT | Little Rock, AR |
| 12/5/17 | 10:30:00 PM | CT | WSREDT | Mobile-Pensacola |
| 12/5/17 | 10:00:00 AM | ET | WMHTDT2 | Albany-Schenectady |
| 12/5/17 | 11:00:00 PM | MT | KUASDT | Tucson |
| 12/5/17 | 11:00:00 PM | MT | KUATDT | Tucson |
| 12/5/17 | 4:30:00 AM | ET | WCBBDT | Portland-Auburn |
| 12/5/17 | 4:30:00 AM | ET | WMEADT | Portland-Auburn |
| 12/5/17 | 4:30:00 AM | ET | WMEDDT | Portland-Auburn |
| 12/5/17 | 11:30:00 PM | ET | WNITDT | South Bend-Elkhart |
| 12/5/17 | 12:30:00 AM | CT | KAFTDT | Ft. Smith, AR |
| 12/5/17 | 3:30:00 AM | ET | WNEODT | Youngstown |
| 12/5/17 | 12:30:00 AM | CT | KETZDT | Monroe-El Dorado |
| 12/5/17 | 12:00:00 PM | CT | KSMQDT | Rochester, MN |
| 12/5/17 | 10:30:00 PM | CT | KSMQDT | Rochester, MN |
| 12/5/17 | 4:30:00 AM | ET | WMEBDT | Bangor |
| 12/5/17 | 12:30:00 AM | CT | KTEJDT | Jonesboro |
| 12/5/17 | 4:30:00 AM | ET | WMEMDT | Presque Isle |
| 12/6/17 | 7:00:00 PM | PT | KOCEDT | Los Angeles |
| 12/6/17 | 2:30:00 AM | ET | WENHDT | Boston |
| 12/6/17 | 1:00:00 AM | ET | WGBHDT | Boston |
| 12/6/17 | 2:30:00 AM | ET | WEKWDT | Boston |
| 12/6/17 | 8:30:00 PM | MT | KBDIDT | Denver |
| 12/6/17 | 1:30:00 PM | ET | WTVIDT | Charlotte |
| 12/6/17 | 11:00:00 PM | ET | WGVKDT | Grand Rapids |
| 12/6/17 | 11:00:00 PM | ET | WGVUDT | Grand Rapids |
| 12/6/17 | 8:00:00 PM | ET | WGVKDT3 | Grand Rapids |
| 12/6/17 | 8:00:00 PM | ET | WGVUDT3 | Grand Rapids |
| 12/6/17 | 12:30:00 PM | ET | WNEDDT | Buffalo |
| 12/6/17 | 8:30:00 PM | PT | KVPTDT | Fresno-Visalia |
| 12/6/17 | 2:30:00 AM | ET | WLEDDT | Burlington |
| 12/7/17 | 3:00:00 AM | ET | WGTVDT | Atlanta |
| 12/7/17 | 11:00:00 PM | ET | WIPBDT | Indianapolis |
| 12/7/17 | 3:00:00 AM | ET | WXGADT | Jacksonville |
| 12/7/17 | 7:00:00 PM | CT | WKNODT | Memphis |
| 12/7/17 | 1:00:00 AM | CT | KEMVDT | Little Rock, AR |
| 12/7/17 | 1:00:00 AM | CT | KETGDT | Little Rock, AR |
| 12/7/17 | 1:00:00 AM | CT | KETSDT | Little Rock, AR |
| 12/7/17 | 7:00:00 PM | CT | KETSDT2 | Little Rock, AR |
| 12/7/17 | 7:00:00 PM | CT | AETN-2 | Little Rock, AR |
| 12/7/17 | 7:00:00 PM | CT | KEMVDT2 | Little Rock, AR |
| 12/7/17 | 7:00:00 PM | CT | KETGDT2 | Little Rock, AR |
| 12/7/17 | 4:30:00 AM | ET | WMHTDT | Albany-Schenectady |
| 12/7/17 | 12:00:00 PM | CT | KPTSDT | Wichita, KS |
| 12/7/17 | 12:30:00 AM | CT | KOZKDT | Springfield, MO |
| 12/7/17 | 3:00:00 AM | ET | WNGHDT | Chattanooga |
| 12/7/17 | 3:00:00 AM | ET | WVANDT | Savannah |
| 12/7/17 | 1:00:00 AM | CT | KAFTDT | Ft. Smith, AR |
| 12/7/17 | 7:00:00 PM | CT | KAFTDT2 | Ft. Smith, AR |
| 12/7/17 | 11:30:00 PM | ET | WFSUDT | Tallahassee |
| 12/7/17 | 3:00:00 AM | ET | WCESDT | Augusta |
| 12/7/17 | 3:00:00 AM | ET | WMUMDT | Macon |
| 12/7/17 | 3:00:00 AM | ET | WJSPDT | Columbus, GA |
| 12/7/17 | 1:00:00 AM | CT | KETZDT | Monroe-El Dorado |
| 12/7/17 | 7:00:00 PM | CT | KETZDT2 | Monroe-El Dorado |
| 12/7/17 | 10:30:00 PM | CT | WFSGDT | Panama City |
| 12/7/17 | 12:30:00 AM | CT | KOZJDT | Joplin-Pittsburg |
| 12/7/17 | 3:00:00 AM | ET | WABWDT | Albany, GA |
| 12/7/17 | 3:00:00 AM | ET | WACSDT | Albany, GA |
| 12/7/17 | 1:00:00 AM | CT | KTEJDT | Jonesboro |
| 12/7/17 | 7:00:00 PM | CT | KTEJDT2 | Jonesboro |
| 12/8/17 | 10:30:00 PM | PT | KOCEDT | Los Angeles |
| 12/8/17 | 7:00:00 AM | CT | KUHTDT2 | Houston |
| 12/8/17 | 9:30:00 PM | ET | WENHDT | Boston |
| 12/8/17 | 9:30:00 PM | ET | WEKWDT | Boston |
| 12/8/17 | 11:30:00 AM | ET | WTVIDT | Charlotte |
| 12/8/17 | 1:00:00 AM | CT | WKNODT | Memphis |
| 12/8/17 | 9:30:00 PM | ET | WLEDDT | Burlington |
| 12/9/17 | 6:30:00 AM | ET | WEDWDT | New York |
| 12/9/17 | 11:00:00 AM | ET | WLIWDT | New York |
| 12/9/17 | 3:30:00 AM | PT | KVCRDT | Los Angeles |
| 12/9/17 | 10:30:00 AM | ET | WLRNDT | Miami |
| 12/9/17 | 7:30:00 AM | ET | WTVIDT | Charlotte |
| 12/9/17 | 12:00:00 PM | ET | WFYIDT | Indianapolis |
| 12/9/17 | 5:30:00 PM | ET | WFYIDT3 | Indianapolis |
| 12/9/17 | 6:30:00 AM | ET | WEDHDT | Hartford |
| 12/9/17 | 6:30:00 AM | ET | WEDYDT3 | Hartford |
| 12/9/17 | 9:00:00 AM | CT | WMVSDT | Milwaukee |
| 12/9/17 | 4:00:00 AM | ET | WITFDT | Harrisburg-Lancaster |
| 12/9/17 | 6:30:00 AM | ET | WEDNDT | Providence |
| 12/9/17 | 1:30:00 PM | ET | WSBEDT | Providence |
| 12/9/17 | 9:30:00 AM | MT | KUASDT | Tucson |
| 12/9/17 | 9:30:00 AM | MT | KUATDT | Tucson |
| 12/9/17 | 4:00:00 AM | CT | KOZKDT | Springfield, MO |
| 12/9/17 | 12:30:00 AM | CT | WMAUDT | Jackson, MS |
| 12/9/17 | 11:00:00 AM | CT | WMAUDT | Jackson, MS |
| 12/9/17 | 12:30:00 AM | CT | WMAVDT | Jackson, MS |
| 12/9/17 | 11:00:00 AM | CT | WMAVDT | Jackson, MS |
| 12/9/17 | 12:30:00 AM | CT | WMPNDT | Jackson, MS |
| 12/9/17 | 11:00:00 AM | CT | WMPNDT | Jackson, MS |
| 12/9/17 | 4:30:00 AM | ET | WFSUDT | Tallahassee |
| 12/9/17 | 10:30:00 AM | ET | WFSUDT | Tallahassee |
| 12/9/17 | 12:30:00 AM | CT | WMABDT | Columbus-Tupelo |
| 12/9/17 | 11:00:00 AM | CT | WMABDT | Columbus-Tupelo |
| 12/9/17 | 12:30:00 AM | CT | WMAEDT | Columbus-Tupelo |
| 12/9/17 | 11:00:00 AM | CT | WMAEDT | Columbus-Tupelo |
| 12/9/17 | 12:00:00 PM | ET | WQLNDT | Erie |
| 12/9/17 | 3:30:00 AM | CT | WFSGDT | Panama City |
| 12/9/17 | 9:30:00 AM | CT | WFSGDT | Panama City |
| 12/9/17 | 11:00:00 PM | CT | WFSGDT | Panama City |
| 12/9/17 | 4:00:00 AM | CT | KOZJDT | Joplin-Pittsburg |
| 12/9/17 | 12:30:00 AM | CT | WMAHDT | Biloxi-Gulfport |
| 12/9/17 | 11:00:00 AM | CT | WMAHDT | Biloxi-Gulfport |
| 12/9/17 | 12:30:00 AM | CT | WMAWDT | Meridian |
| 12/9/17 | 11:00:00 AM | CT | WMAWDT | Meridian |
| 12/9/17 | 12:30:00 AM | CT | WMAODT | Greenwood-Greenville |
| 12/9/17 | 11:00:00 AM | CT | WMAODT | Greenwood-Greenville |
| 12/9/17 | 1:30:00 AM | MT | KWYPDT | Cheyenne, WY |
| 12/9/17 | 1:30:00 AM | MT | KCWCDT | Casper-Riverton |
| 12/9/17 | 1:30:00 AM | MT | KPTWDT | Casper-Riverton |
| 12/10/17 | 1:00:00 AM | PT | KVCRDT3 | Los Angeles |
| 12/10/17 | 2:00:00 AM | ET | WLRNDT | Miami |
| 12/10/17 | 12:30:00 AM | CT | KCPTDT | Kansas City |
| 12/10/17 | 2:00:00 PM | CT | KCPTDT2 | Kansas City |
| 12/10/17 | 7:30:00 AM | ET | WXELDT | West Palm |
| 12/10/17 | 11:30:00 AM | ET | WGVKDT | Grand Rapids |
| 12/10/17 | 11:30:00 AM | ET | WGVUDT | Grand Rapids |
| 12/10/17 | 2:00:00 PM | ET | WITFDT | Harrisburg-Lancaster |
| 12/10/17 | 8:00:00 AM | MT | KNMEDT | Albuquerque |
| 12/10/17 | 12:00:00 PM | CT | KEMVDT | Little Rock, AR |
| 12/10/17 | 12:00:00 PM | CT | KETGDT | Little Rock, AR |
| 12/10/17 | 12:00:00 PM | CT | KETSDT | Little Rock, AR |
| 12/10/17 | 9:30:00 AM | CT | WSREDT | Mobile-Pensacola |
| 12/10/17 | 9:30:00 AM | ET | WMHTDT | Albany-Schenectady |
| 12/10/17 | 12:00:00 AM | MT | KUASDT | Tucson |
| 12/10/17 | 12:00:00 AM | MT | KUATDT | Tucson |
| 12/10/17 | 1:00:00 AM | CT | KOZKDT | Springfield, MO |
| 12/10/17 | 3:30:00 AM | ET | WCBBDT | Portland-Auburn |
| 12/10/17 | 3:30:00 AM | ET | WMEADT | Portland-Auburn |
| 12/10/17 | 3:30:00 AM | ET | WMEDDT | Portland-Auburn |
| 12/10/17 | 12:00:00 PM | ET | WCNYDT | Syracuse |
| 12/10/17 | 12:00:00 PM | CT | KAFTDT | Ft. Smith, AR |
| 12/10/17 | 12:00:00 AM | ET | WFSUDT | Tallahassee |
| 12/10/17 | 6:00:00 PM | ET | WFSUDT | Tallahassee |
| 12/10/17 | 12:00:00 PM | CT | KETZDT | Monroe-El Dorado |
| 12/10/17 | 5:00:00 PM | CT | WFSGDT | Panama City |
| 12/10/17 | 1:00:00 AM | CT | KOZJDT | Joplin-Pittsburg |
| 12/10/17 | 3:30:00 AM | ET | WMEBDT | Bangor |
| 12/10/17 | 10:30:00 AM | ET | WUFTDT | Gainesville |
| 12/10/17 | 12:00:00 PM | CT | KTEJDT | Jonesboro |
| 12/10/17 | 3:30:00 AM | ET | WMEMDT | Presque Isle |
| 12/11/17 | 3:30:00 AM | ET | WLIWDT | New York |
| 12/11/17 | 1:30:00 AM | ET | WLVTDT | Philadelphia |
| 12/11/17 | 12:30:00 AM | ET | WTVIDT | Charlotte |
| 12/11/17 | 11:00:00 AM | ET | WGVKDT3 | Grand Rapids |
| 12/11/17 | 11:00:00 AM | ET | WGVUDT3 | Grand Rapids |
| 12/11/17 | 8:00:00 AM | ET | WMHTDT2 | Albany-Schenectady |
| 12/11/17 | 12:00:00 PM | CT | KPTSDT | Wichita, KS |
| 12/12/17 | 1:30:00 PM | ET | WTVIDT | Charlotte |
| 12/12/17 | 8:00:00 PM | ET | WGVKDT | Grand Rapids |
| 12/12/17 | 8:00:00 PM | ET | WGVUDT | Grand Rapids |
| 12/12/17 | 4:30:00 AM | ET | WGCUDT | Ft Myers-Napls |
| 12/12/17 | 3:30:00 AM | CT | KOZKDT | Springfield, MO |
| 12/12/17 | 3:30:00 AM | CT | KOZJDT | Joplin-Pittsburg |
| 12/13/17 | 1:00:00 PM | ET | WEDUDT | Tampa |
| 12/13/17 | 1:00:00 PM | ET | WGCUDT3 | Ft Myers-Napls |
| 12/14/17 | 3:00:00 AM | PT | KVIEDT | Sacramento |
| 12/14/17 | 3:00:00 AM | ET | WITFDT | Harrisburg-Lancaster |
| 12/15/17 | 2:30:00 AM | MT | KBDIDT | Denver |
| 12/15/17 | 4:00:00 AM | MT | KBDIDT | Denver |
| 12/15/17 | 2:30:00 AM | ET | WGVKDT | Grand Rapids |
| 12/15/17 | 2:30:00 AM | ET | WGVUDT | Grand Rapids |
| 12/15/17 | 9:00:00 PM | ET | WGVKDT3 | Grand Rapids |
| 12/15/17 | 9:00:00 PM | ET | WGVUDT3 | Grand Rapids |
| 12/15/17 | 10:30:00 PM | ET | WUFTDT | Gainesville |
| 12/16/17 | 7:30:00 AM | ET | WQEDDT4 | Pittsburgh |
| 12/17/17 | 3:00:00 PM | ET | WLIWDT | New York |
| 12/17/17 | 12:30:00 AM | ET | WQEDDT4 | Pittsburgh |
| 12/17/17 | 5:30:00 PM | ET | WQEDDT4 | Pittsburgh |
| 12/18/17 | 2:30:00 AM | ET | WENHDT | Boston |
| 12/18/17 | 2:30:00 AM | ET | WEKWDT | Boston |
| 12/18/17 | 10:30:00 AM | ET | WQEDDT4 | Pittsburgh |
| 12/18/17 | 2:30:00 AM | ET | WLEDDT | Burlington |
| 12/19/17 | 3:30:00 AM | ET | WQEDDT4 | Pittsburgh |
| 12/19/17 | 8:30:00 PM | ET | WQEDDT4 | Pittsburgh |
| 12/20/17 | 1:30:00 PM | ET | WQEDDT4 | Pittsburgh |
| 12/21/17 | 6:30:00 AM | ET | WQEDDT4 | Pittsburgh |
| 12/21/17 | 11:30:00 PM | ET | WQEDDT4 | Pittsburgh |
| 12/21/17 | 11:30:00 PM | ET | WUFTDT | Gainesville |
| 12/22/17 | 4:30:00 PM | ET | WQEDDT4 | Pittsburgh |
| 12/29/17 | 8:00:00 PM | ET | WDCQDT3 | Flint-Saginaw |