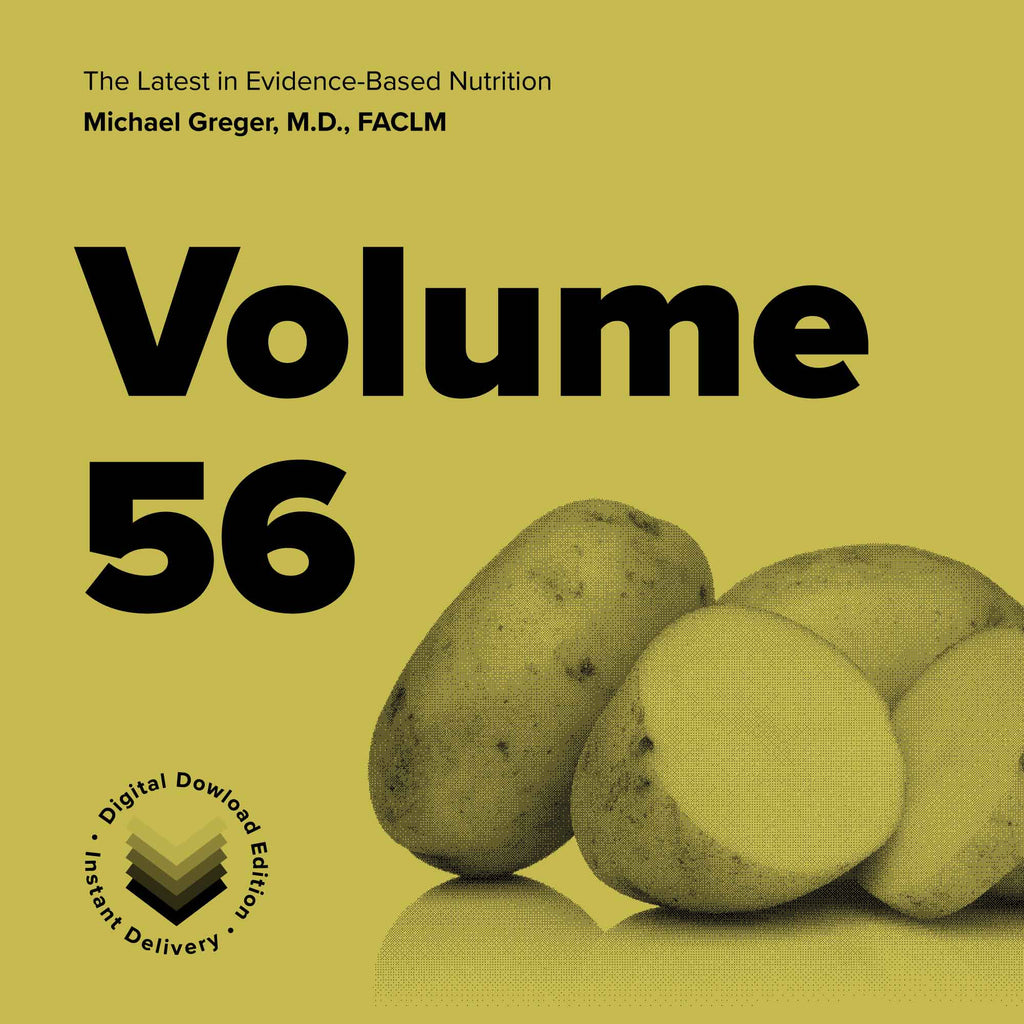 Latest in Clinical Nutrition - Volume 56 [Digital Download]
---
Overview

Dr. Greger reviews the latest cutting-edge science in this video presentation.
Chapters
1. Fasting to Reverse Diabetes
2. Can Cholesterol Get Too Low?
3. Are PCSK9 Inhibitors for LDL Cholesterol Safe and Effective?
4. Plant-Based Eating Score Put to the Test
5. Avoid These Foods to Prevent a Leaky Gut
6. How to Heal a Leaky Gut with Diet
7. Mixed Nuts Put to the Test for Erectile Dysfunction
8. Is Gastric Balloon Surgery Safe and Effective for Weight Loss?
9. Extreme Weight-Loss Devices
10. Onions Put to the Test for Weight Loss, Cholesterol, and PCOS Treatment
11. The Role Milk May Play in Triggering Parkinson's Disease
12. How Useful Is Personalized Nutrition?
13. Pesticides and Cancer Risk
14. Fighting the Ten Hallmarks of Cancer with Food
15. Pomegranate: A Natural Treatment for Rheumatoid Arthritis
16. Foods That Cause Inflammation
17. Which Foods Are Anti-Inflammatory?
18. The Carcinogen Glycidol in Cooking Oils
19. Prunes: A Natural Remedy for Constipation
20. Do Potatoes Increase the Risk of Diabetes?
21. Do Potatoes Increase the Risk of High Blood Pressure and Death?
22. Glycemic Index of Potatoes: Why You Should Chill and Reheat Them
23. How to Reduce the Glycemic Impact of Potatoes
24. The Healthiest Type of Potato
25. Do Vitamin C Supplements Help with Anxiety?
26. How to Increase Your Life Expectancy 12 to 14 Years
All of these videos are available for free on NutritionFacts.org.
---
Upon ordering, you will receive instant delivery of multiple, easy-to-view digital video formats:
Streaming Video
M4A File
M4A Zipped
---
Share this Product
---
More from this collection