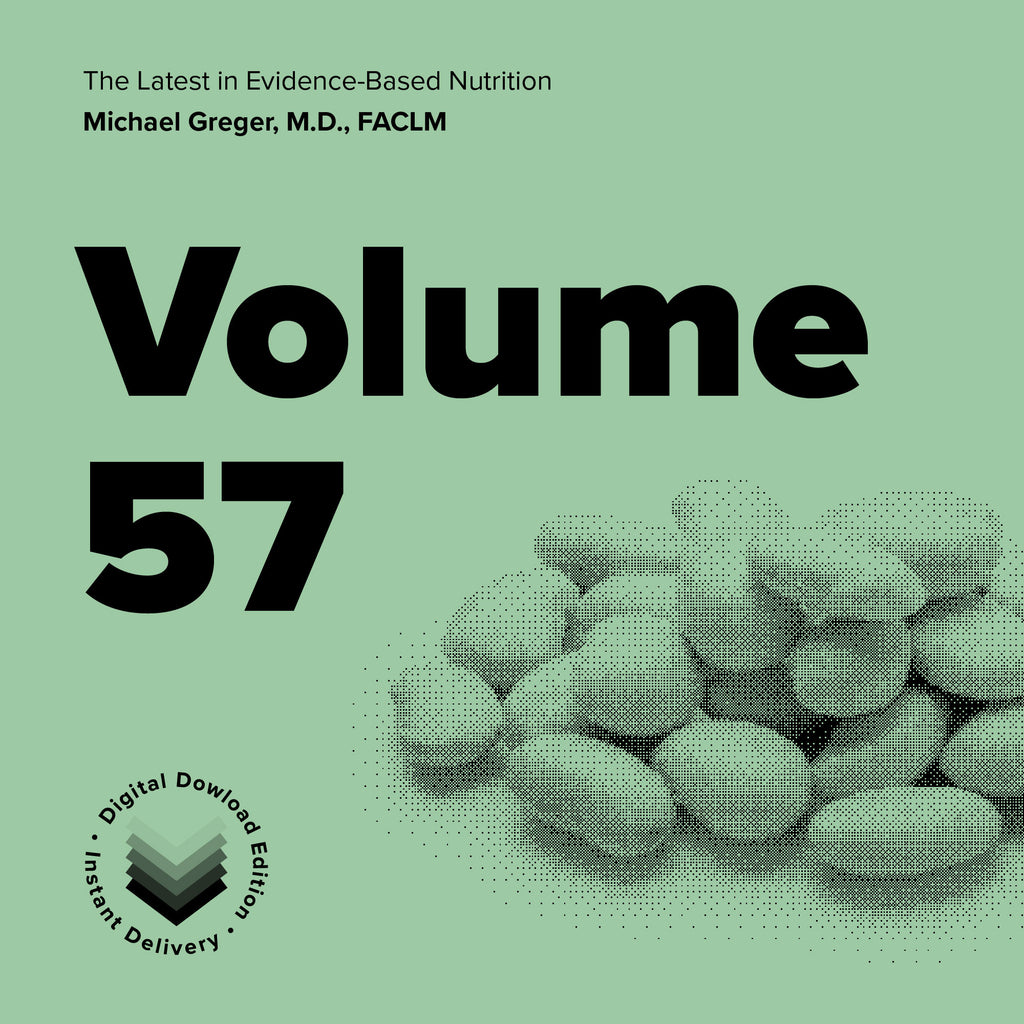 Latest in Clinical Nutrition - Volume 57 [Digital Download]
---
Overview

Dr. Greger reviews the latest cutting-edge science in this video presentation.
Chapters
1. Cancer-Causing NDMA in Medications (Zantac, Metformin) and Meat
2. Bovine Leukemia Virus as a Cause of Breast Cancer
3. Breast Cancer and the Bovine Leukemia Virus in Meat and Dairy
4. Why Don't People Eat Healthier?
5. How to Keep Your Microbiome Healthy with Prebiotic Foods
6. Life Extension with FGF21
7. How to Boost FGF21 with Diet for Longevity
8. Do the Health Benefits of Peanut Butter Include Longevity?
9. Should You Get Personalized Genetic Risk Testing
10. IARC: Processed Meat Like Bacon Causes Cancer
11. How Much Cancer Does Processed Meat Cause?
12. Pesticides (DDT) and Alzheimer's Disease
13. Blocking the Cancer Metastasis Enzyme MMP-9 with Beans and Chickpeas
14. Do Healthy Fast-Food Options Lead to Healthier Choices?
15. How We Won the Fight to Ban Trans Fat
16. Ultra-Processed Junk Food Put to the Test
17. The Best Poop Position for Constipation
18. Saturated Fat Causes Artery and Lung Inflammation
19. Exercising to Protect Your Arteries from Fast Food
20. Foods to Help Protect Your Arteries from Saturated Fat
21. Natural Dietary Remedy for Insomnia
22. Natural Dietary Treatments for Enlarged Prostate BPH
23. Fewer Than 1 in 5,000 Meet Sodium and Potassium Recommended Intakes
24. Are Potassium Chloride Salt Substitutes Effective?
25. Potassium Chloride Salt Substitute Side Effects
26. Animal Protein vs. Plant-Based Protein
All of these videos are available for free on NutritionFacts.org.
---
Upon ordering, you will receive instant delivery of multiple, easy-to-view digital video formats:
Streaming Video
M4A File
M4A Zipped
---
Share this Product
---
More from this collection