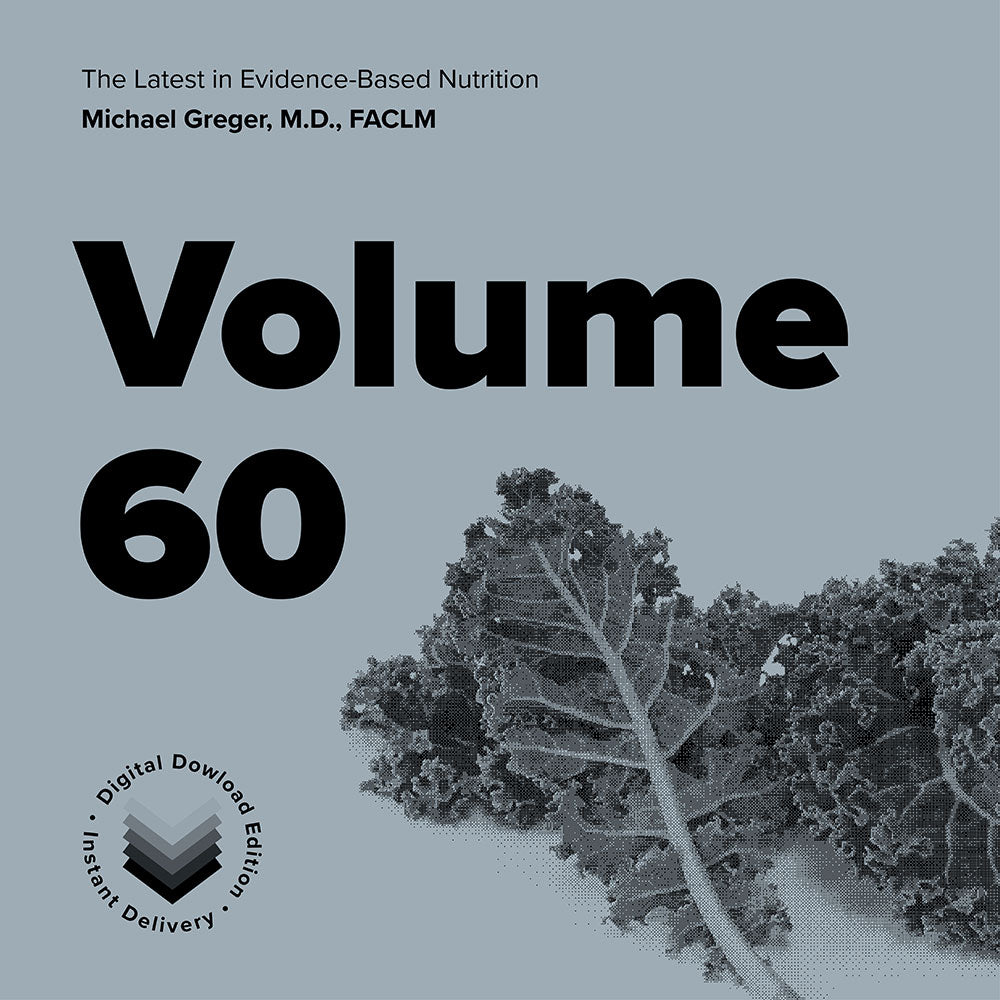 Latest in Clinical Nutrition - Volume 60 [Digital Download]
---
Overview

Dr. Greger reviews the latest cutting-edge science in this video presentation.
Chapters
1. Lower Protein Diet Proven to Help Kidney Disease
2. Advanced Glycation End Products (AGEs) and Cognitive Decline
3. Antibiotic-Resistant E. coli and UTIs in Vegetarians vs. Meat Eaters
4. Do Alkaline Diets Help Athletic Performance?
5. The Purported Benefits of Vitamin K2: Should You Take Supplements?
6. Do Vegans Have Lower Bone Density and More Fractures?
7. Vitamin D May Explain Higher Bone Fracture Risk in Vegans
8. Diet and Lifestyle for Cancer Prevention and Survival
9. Cholesterol and Heart Disease: Why Has There Been So Much Controversy?
10. Does Dietary Cholesterol from Eggs Raise Blood Cholesterol?
11. Potential Vitamin and Mineral Deficiency Risks on a Vegan Diet
12. The Harms Associated with Eating More Southern-Style Food
13. Erythritol vs. Xylitol for Preventing Cavities and Tooth Decay
14. The Best Diet for Cancer Patients
15. Effects of Tongue Scraping on Plaque, Gingivitis, and Cavities
16. Tongue Scraping vs. Tongue Brushing for Treating Halitosis (Bad Breath)
17. Does Tongue Scraping Cause Cancer?
18. How Tongue Scraping Can Affect Heart Health
19. How to Clean Your Tongue
20. The Fat-Blocking and Appetite-Suppressing Effects of Thylakoids
21. Treating Parkinson's Disease with Velvet Beans (Mucuna pruriens)
22. Treating Parkinson's Disease with Fava Beans (Faba or Broad Beans)
23. The Best Diet for Fibromyalgia and Other Chronic Pain Relief
24. Does Lack of Sleep Cause You to Gain Weight?
25. Does Getting Enough Sleep Help You Lose Weight?
26. Vinegar for Blood Sugar Control and Polycystic Ovary Syndrome (PCOS) Treatment

All of these videos are available for free on NutritionFacts.org.
---
Upon ordering, you will receive instant delivery of multiple, easy-to-view digital video formats:
Streaming Video
M4A File
M4A Zipped
---
Share this Product
---
More from this collection