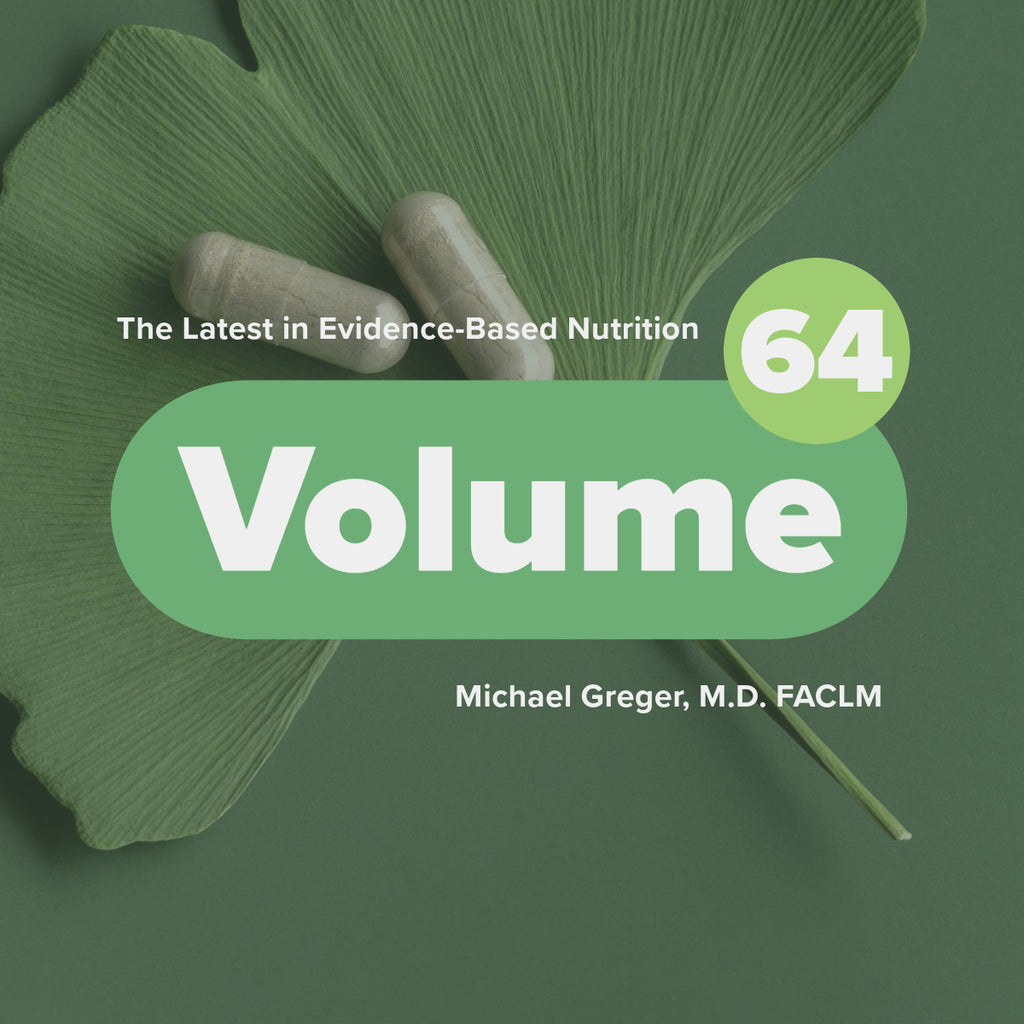 Latest in Clinical Nutrition - Volume 64 [Digital Download]
---
Overview

Dr. Greger reviews the latest cutting-edge science in this video presentation.
Chapters
1. Acid Reflux Medicine May Cause Osteoporosis
2. Do Vitamin D Supplements Help Prevent Diabetes, Cancer Mortality, and Overall Mortality?
3. The Side Effects of Human Growth Hormone as an Anti-Aging Therapy
4. DHEA: What Is It and What Are Its Benefits?
5. Ginkgo Biloba as a Brain Health Supplement for Dementia
6. Do Hair Dyes Cause Cancer?
7. Is Aging a Disease?
8. The Efficacy, Safety, and Side Effects of Botox and Facelifts
9. The Efficacy and Safety of Fillers, Chemical Peels, and Laser Skin Resurfacing
10. Diet and Caloric Restriction for Longevity—The Monkey Trials
11. How to Boost Your Endothelial Progenitor Cells (EPCs) for Heart Health
12. The Benefits and Side Effects of Ginseng
13. How Well Do Medicines Like Fosamax Treat Osteoporosis?
14. Parabiosis Experiments Prove Bloodborne Aging Factors
15. Can Transfusions of Young Blood Slow Aging?
16. How Much Sleep Is Needed for Glymphatic Flow (Brain Cleaning)?
17. The Best Sleeping Position for Glymphatic Flow in the Brain
18. Why Do Milk Drinkers Live Shorter Lives on Average?
19. Dental Implant Overdentures and Cognitive Function
20. How to Delay the Age of Menopause with Diet and Lifestyle Factors
21. What Causes Wrinkles?
22. The Best Mouthwash for Halitosis (Bad Breath)
23. Is Longevity Genetic?
24. APOE—The Single Most Important Gene for Longevity
25. How Much Licorice Is Safe?
26. The Pros and Cons of Testing PSA Levels for Prostate Cancer
All of these videos are available for free on NutritionFacts.org.
---
Upon ordering, you will receive instant delivery of multiple, easy-to-view digital video formats:
Streaming Video
M4A File
---
Share this Product
---
More from this collection